Studio 55 Marin
Click to Select a Different Year
---
PREVIOUS SHOWS IN 2015
---
| | | |
| --- | --- | --- |
| | Saturday, December 12 - 8pm - $17 advance / $20 at door | |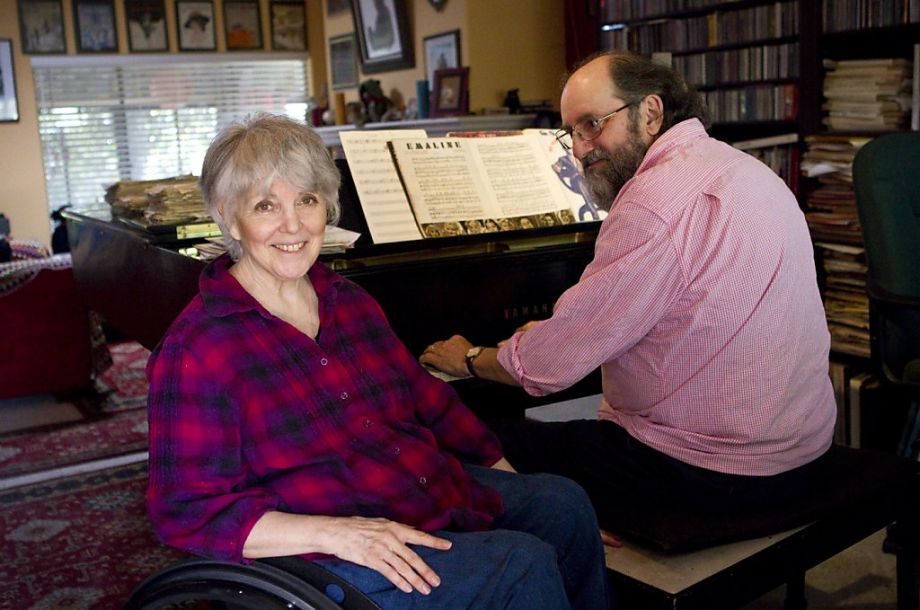 Wesla, with her husband/pianist/arranger, Mike Greensill performs annually throughout the country in concert halls and fine show rooms. Together Mike and Wesla have opened at Michigan's Meadowbrook, New Jersey's Garden State Art Center and Flint Center in Cupertino for such notables as George Burns, Michael Feinstein and Frankie Laine.
Mike Greensill is a resident piano player on Sedge Thomson's weekly Public Radio show to the world, "West Coast Live." As an arranger Mike, in addition to his work with Wesla, has had the opportunity to write for big bands and symphony orchestras including the Boston Pops and the San Francisco Symphony. Mike has also had the pleasure of accompanying such diverse talents as Rita Moreno,Margaret Whiting, Broadway stars Lillias White and Franc D'Ambrosio and jazz singers Madeline Eastman, Ann Hampton Callaway and Opie Bellas.
Wesla Whitfield is a remarkable singer whose recording received rave reviews from Jazz Times and many other national publications. Her solo symphonic appearances include two concerts with the San Francisco Symphony as well as San Jose, Sacramento, Omaha, Stockton, Napa, Auburn, Concord Pavilion, Santa Rosa, Peninsula and California Symphonies. She appeared on many national shows, including Garrison Keillor's "Prairie Home Companion" and the highly revered Marian McPartland PBS 'Piano Jazz' series. The October 2005 issue of Oprah Magazine hailed Wesla as "a phenomenal woman" in a detailed three page article.
Together Whitfield and Greensill conduct scheduled Master Classes at Notre Dame De Namur in Belmont and Napa Colleges in Napa Valley and throughout the country.
---
| | | |
| --- | --- | --- |
| | Saturday, November 28, 2015 | |
Jim Nunally and Nell Robinson

Nell Robinson and Jim Nunally kick off their new classic country band this Fall soon to be featured on their upcoming album and segment filmed for PBS. With lush vocals and a hot band comes a set filled with high energy originals and vintage country covers featuring Pete Grant on pedal steel, Jim Kerwin on string bass and Jon Arkin on percussion.

This is truly an all-star band. Nell Robinson has been described as a "modern day Patsy Cline" and "one of the freshest voices in roots music." Her "Rose of No Man's Land" CD, produced by Joe Henry, featured Kris Kristofferson, John Doe, Maxine Hong Kingston and more and is now a PBS special airing throughout the country. Grammy participant for work on a tribute to Bill Monroe and Flatpicking Guitar champion, Jim Nunally tours with the David Grisman Bluegrass Experience and John Reischman & the Jaybirds. Pete Grant's resume looks like a who's who of music, including the Grateful Dead, Guy Clark, Hoyt Axton, the Dillards and many more. Jim Kerwin is considered simply one of the best string bass players in the country, has also played with David Grisman for over 30 years and is featured on all his Jerry Garcia recordings. Jon Arkin is a go-to percussionist and Jazz School instructor, with decades of experience on recordings and performances from Madison Square Garden and the Montreal Jazz Festival to every major Bay Area venue.

The result is what one critic calls "a timeless, sepia-toned world at the intersection of bluegrass, country, folk, and Americana."

Simon Linsteadt

Opening act singer-songwriter and guitarist, Simon Linsteadt (of Steep Ravine) was recognized by music critics in 2015 as an "emerging talent on the Americana music scene". His first two albums with band Steep Ravine racked up high praise for "highly crafted tunes awash with catchy hooks" and "vocals suffused with intimacy and emotional heft".

Woven between his intimate vocals and lyrical prose, Simon's trademark guitar style fuses bluegrass-inspired cross-picking with a gentle, folk-laden attitude, the occasional jazz chunking, and a side of thwacking, primarily using a flat-pick.
---
| | | |
| --- | --- | --- |
| | Saturday, November 14 Wake The Dead World's First Celtic All-Star Grateful Dead Jam Band | |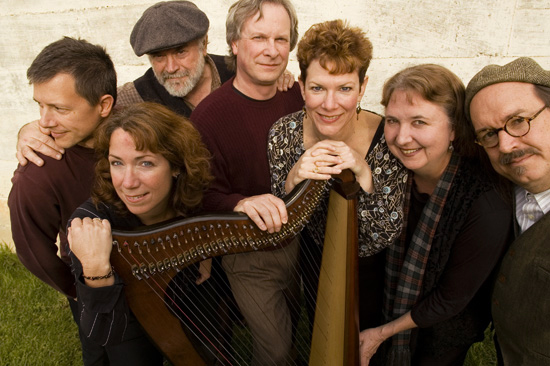 After 11 years of solid success blending Celtic traditional music and the songs of the Grateful Dead, this hot Northern California septet now embraces the entire Summer of Love, delighting Deadheads, folkies, rockers, and adventurous music lovers alike around the world.
As an expression of cultural joy, you can't top an Irish wake. And what is a wake but a celebration - a toast of appreciation - an expression of love - and a damn good party. So when eight top Bay Area musicians realized they shared as deep a love for the songs of the Grateful Dead as they did for traditional Celtic tunes, some brand-new music sprang up and started the partying.
Wake the Dead is a romp that flows seamlessly from rock grooves to hot Irish reels, and from haunting airs to achingly beautiful melodies familiar to Deadheads everywhere. Sugaree in waltz time, bracketed by an ancient harp tune and infused with a poignant Celtic longing. Bertha thundering out of China Cat on a mandolin tidal wave. The eerie lilt of the uilleann pipes, giving a glow to Bird Song as if it was always meant to be there. Groove jams to keep the tie-dye swirling. Vocal harmonies that float like clouds.
The music takes off, and the band follows, grinning all the way. These aren't worlds colliding - they're worlds meshing, coalescing - creating a whole new world of possibility, and true to the spirits of the Grateful Dead and the eternally hopeful Celts.
---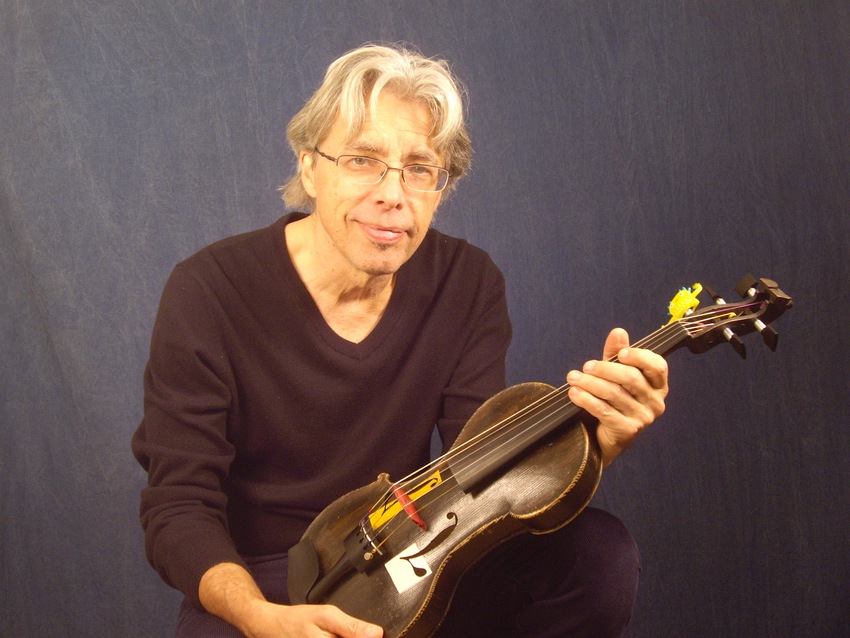 Internationally renowned fiddle player Darol Anger will return to play an intimate concert in an area which has deep emotional significance for him: San Rafael. Anger was raised in Marin County and attended San Rafael High School (also home to many other talented musicians including film composer Mark Isham). Some of his most important formative musical experiences happened right in this neighborhood, at the historic Pepperland Theatre: his first Grateful Dead experience which also featured Janis Joplin, and a double-bill of the Youngbloods and an explosive band called SeaTrain, with a young Peter Rowan and fiddler Richard Greene, who sparked Darol's fiddling career.
Now a professor at Boston's Berklee College Of Music, Anger was a resident of the San Francisco Bay Area for 30 years and was a founding member of the David Grisman Quintet with Tony Rice, and released many recordings on the Windham Hill label with Barbabra Higbie, Mike Marshall, and his Turtle Island String Quartet.
Darol has spent his career enlightening and inspiring his fellow musicians, and vice-versa. That's where the Furies come in, a handpicked collection of multi-generations virtuoso singers and musicians drawn from Darol's vast network of talent. Sharon Gilchrist is a mandolin marvel who has played with Uncle Earl, the Peter Rowan/Tony Rice quartet, and Laurie Lewis and the Right Hands. Emy Phelps is a remarkable vocalist and a star in the Pacific Northwest who put her career on hold to raise four kids and is now back in the game. Tristan Clarridge is a five-time Grand National Fiddle Champion and a pioneering cellist who has toured with Crooked Still. When these four powerful forces get together with Darol, the result is mythical, magical, and musical mayhem.
---
Elise's music is a gumbo that spans styles, genres, countries, and times. Her straightforward charm and pure, strong voice are truly fine music to the ears. She has 11 recordings on the EMWorld label. Her songs have been used in several documentary films, and include the anthem Open the Window. Elise has crisscrossed the United States performing her songs, including at Carnegie Hall and Lincoln Center.

Video of In Fives (by Becky Reardon)

Becky's silky jazz-infused sound coupled with a deep connection to nature and expert guitar work make her music a must. Her songs and rounds are sung in song circles and by university and community choirs all across the United States, Canada, and the British Isles. Becky was a featured performer at the international GALA Festival of Choirs in 2012, and her song Venus was performed during the NASA webcast of the Venus transit of the sun in June 2014.

Video of Lifted Up (by Terry Garthwaite)

With a voice both "sassy & touching", Terry has been creating infectious music since the '70s in the Joy of Cooking band. She is an internationally known singer, songwriter, composer, producer, and teacher. In addition to her several albums with various jazz and blues musicians, she has shared the stage with such artists as BB King, Janis Joplin, Bonnie Raitt, The Band, Allen Ginsberg, Santana, Rosalie Sorrels and writer Bobbie Hawkins at venues that include Carnegie Hall and the Hollywood Bowl.
---
Marin/Marin

Marin/Marin is Swedish master fiddlers husband and wife duo Mikael Marin and Mia Marin. They play traditional Swedish music, as well as their own compositions. So far, they have released two albums: "Mot Hags&aumltra" and "Sm&aringfolket." They are famous in Sweden, and tour reguarly in Sweden, Norway, Denmark, Scottland, Belgium, Estonia, Italy, France, Bulgaria, Australia, USA etc. This is a rare chance to see them in the Bay Area.

Marin/Marin have released the highly acclaimed CD Mot Hags&aumltra on the label Dimma Sweden. In June 2011, their second album Sm&aringfolket was released, and their third album is scheduled to be released any time now.

Mikael Marin is well known in this area for being a member of the trio V&aumlsen, who have developed a fanatic following in the Bay Area. He plays five string viola and violino grande in this duo.

Mia Marin plays five string violin in this duo, and is well known as a lively and exuberant musician from V&aumlrmland in Sweden. She is an experienced composer, taking inspiration mainly from traditional music, but also from jazz and classical music. Her music is recorded on several albums over the years. Mia also teaches at some of the most prestigious music institutions in Sweden including the Royal College of Music in Stockholm, and at many different workshops around the world.

Moreover, Marin Marin has become an inspiration for many string enthusiasts with their Tunebook, a manuscript book with original tunes. It is full of wonderful compositions and clever harmonization. A cross between classical music and folk music, their compositions strike a chord with younger audiences. The duo has become an example of best techniques and practices for many players.

Muse Crossing

Muse Crossing is Shawn Dohring, Michele Voilleque and Mark Walstrom - three very different musicians who share a passion for singing. They play eclectic arrangements of folk, popular, and classical songs, always with an emphasis on tight vocal harmonies, while two guitars and one mandolin create a lovely musical bed. Most months, you can hear them live somewhere in the Bay Area.
---
Time pays homage to the classics from our musical heroes and adds to the tradition with original material from Kallick, Bekeny, and Booth. This is a top-notch band led by a woman with the warmest, richest voice in our music today. - Katy Daley, WAMU's Bluegrass Country
Kathy Kallick has been leading bluegrass bands since co-founding the internationally-acclaimed band, Good Ol' Persons, in 1975. She continues to evolve as one of the music's extraordinary composers and vocalists, releasing 15 albums, which include over 100 of her original songs. Her latest CD, Between the Hollow and the High-Rise, and the song Where Is My Little Cabin Home, were fixtures on the national bluegrass charts for two years. The song had more chart time than any other 2010-11 release!
Along the way, Kathy has: *Won a Grammy and two IBMA Awards for her part on True Life Blues: The Songs Of Bill Monroe. *Had three title tracks and three albums (Call Me A Taxi, Walkin' In My Shoes, and Warmer Kind Of Blue) each spend a year in the upper echelon of the bluegrass charts. *Appeared on three high-profile Rounder collections of bluegrass songs by women, as well as many other noteworthy collections of songs. *Toured throughout North America, Europe, and Japan.
---
| | | |
| --- | --- | --- |
| | Saturday, October 17 - 8:00pm - $18 advance / $20 at door The Tannahill Weavers An Especially Eloquent Mixture of the Old and the New | |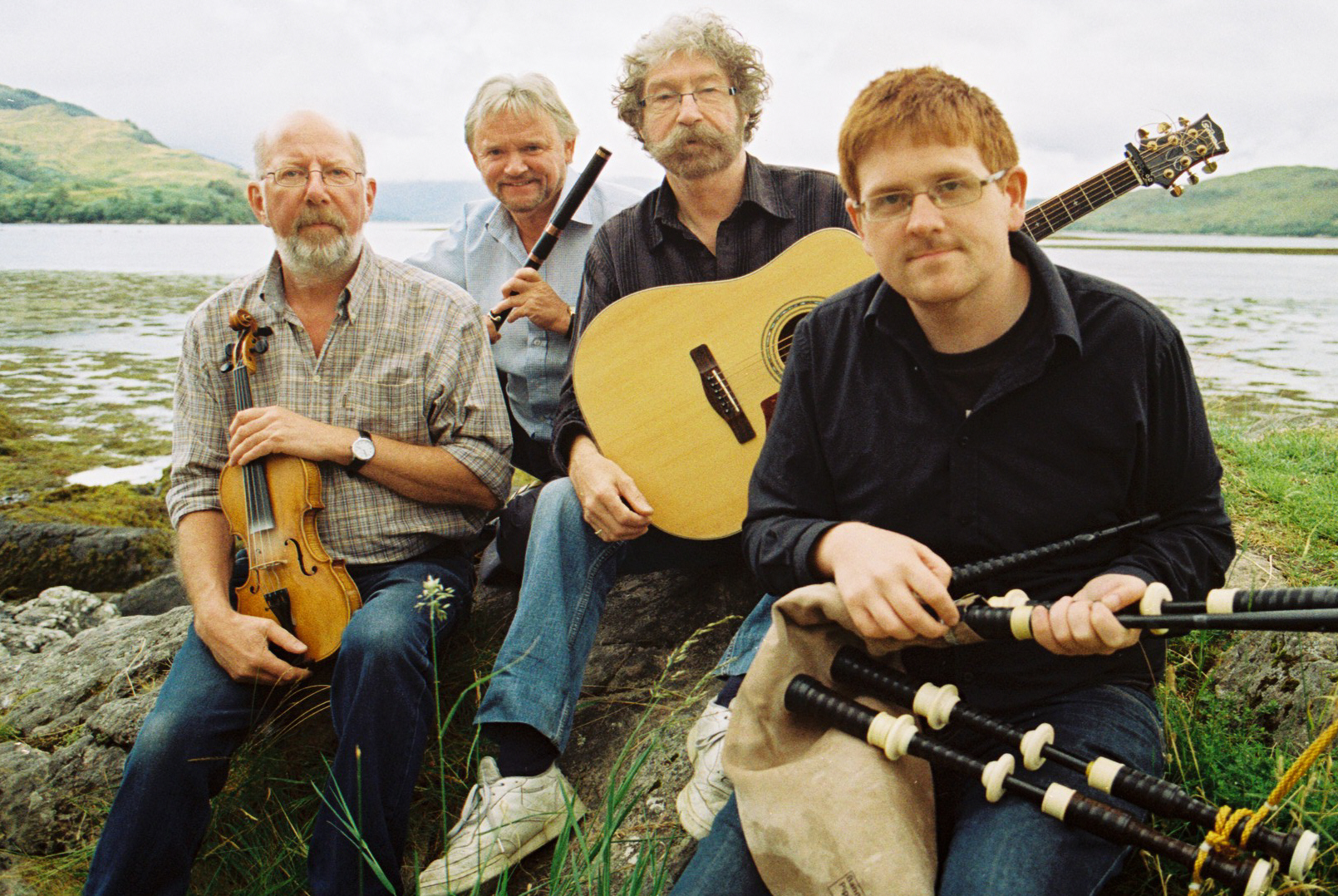 The Tannahill Weavers are one of Scotland's premier traditional bands. Since the band's formation, the Tannahills have won the Scotstar Award for Folk Record of the Year with their third album, The Tannahill Weavers. The band has played in front of thousands at the national festivals in Vancouver, Winnipeg and Toronto screaming an approval that echoed throughout the Canadian media. The Regina Leader-Post wrote, "The Tannahill Weavers personify Celtic music, and if you are given to superlatives, you have to call their talent 'awesome'." In 2011 the band was inducted into the Scottish Traditional Music Hall of Fame, and in 2014 they were joined by an innovative piper Lorne MacDougall. Lorne comes with a high pedigree, having arranged and performed pipes for the Disney Pixar movie "Brave", along with a long list of other accomplishments. With the release of the Tannahill's 17th recording, Live and In Session, on award-winning label Compass Records, they are firmly established as one of the best groups on the concert stage.
Their diverse repertoire spans the centuries with fire-driven instrumentals, topical songs, and original ballads and lullabies. Their music demonstrates to old and young alike the rich and varied musical heritage of the Celtic people. These versatile musicians have received worldwide accolades consistently over the years for their exuberant performances and outstanding recording efforts. The Tannahills have that unique combination of traditional melodies, driving rhythmic accompaniment, and rich vocals that make their performances unforgettable.
---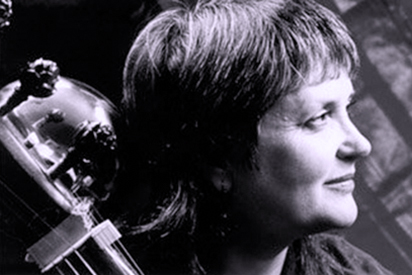 Innovative composer and world music songcrafter Sangita Moskow will bring her musical explorations to Studio 55. Her resonant instrumental techniques on electric sarod and her expressive vocals will combine with the magic of Paul Eastburn's bass, violin and mandolin to create an enchanting and hypnotic landscape. Sangita's thematic material draws on traditions from Marin County to India to Europe to Brazil and more.
Sangita has gained international recognition for her work with the sarod, a 25-stringed lute from North India which she has modified into a 14-stringed instrument that lends itself to vocal accompaniment. She has spent the last 40 years creating original compositions and unusual ensembles for this instrument, and has performed extensively throughout Europe, Mexico, and the US West Coast. Sangita uses non-traditional tunings and techniques that draw heavily from the scales, rhythms, and structures of North Indian classical music, but also from the musics of Indonesia, Japan, the Middle East and the British Isles.
Sangita has received more than 10 awards for musical composition from the ASCAP Foundation and has been the recipient of several Subito grants from the American Composers Forum. Her collaboration with soundscape artist Robert Rich resulted in the "Yearning" Cd which was voted one of the top Cds for meditation and yoga in the 20th century by the Yoga Journal. She toured Europe and Mexico for over 10 years with Swiss clarinetist Herman Buhler in their group called Sojourn, She has performed with composer/electronic musician Guillermo Galindo for several years in Sarah Cahill's "Garden of Memory" at the Chapel of Chimes in Oakland. She has performed in several Planet Tree Festivals in London (Lawrence Ball). She makes regular appearances on radio and TV, and has worked in film, theater, dance, and multimedia productions.
Accompanying Sangita will be Paul Eastburn whose extraordinary and multi-facetted talents are expressed on bass, violin and mandolin in this concert. He is one of the most in-demand musicians in the Bay Area and has distinguished himself as an educator in a number of San Francisco music programs.
---
| | | |
| --- | --- | --- |
| | Saturday, August 29 Hans York The Best in the Singer-Songwriter Genre | |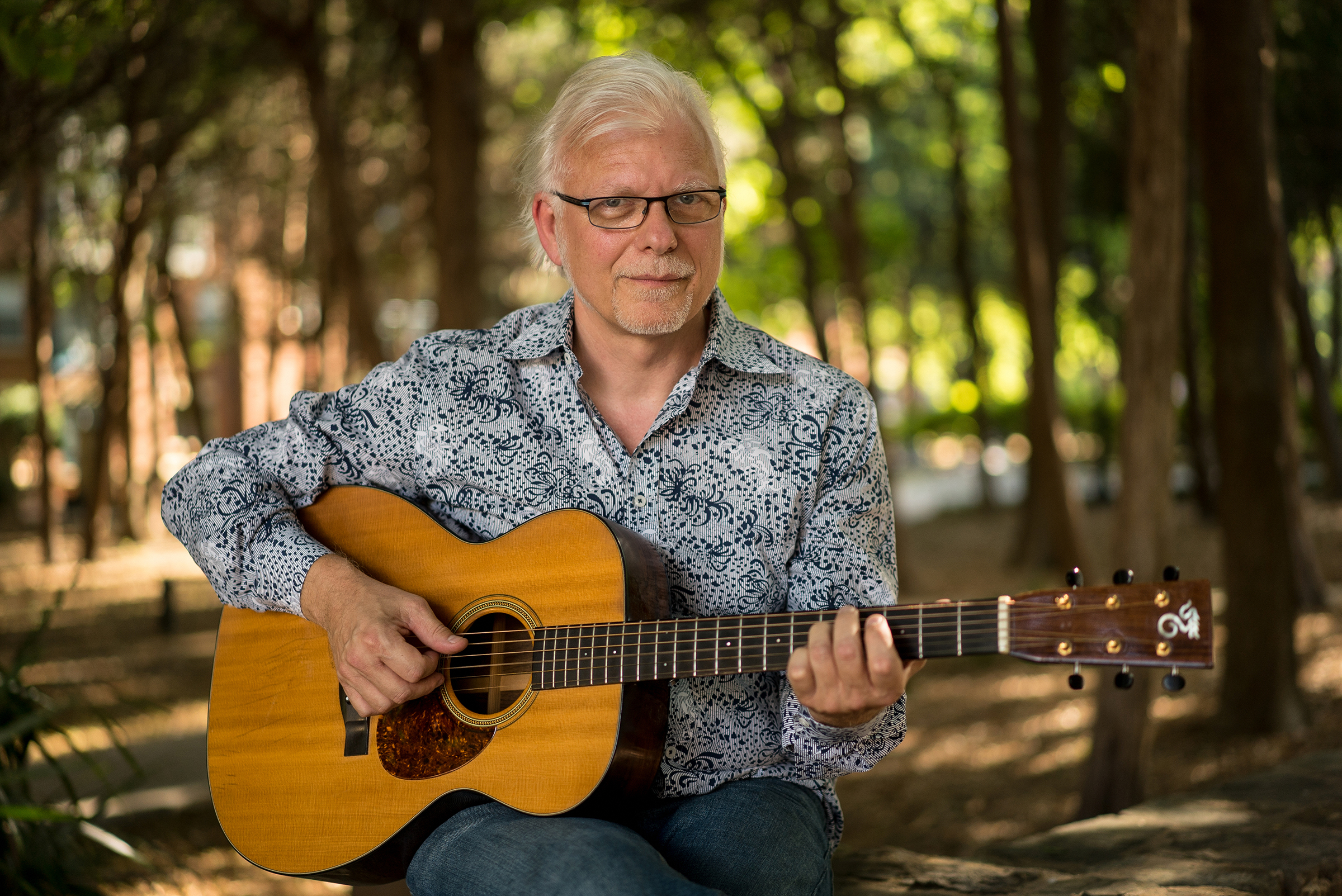 Hans York is a masterful storyteller, multi-instrumentalist, and a producer with a deep musical palette. His music extends across multiple genres, from jazz to world to roots. Hans' career started back in Germany where he was writing for TV and performing with his own Band CHAO besides accompanying Robert Palmer on German TV. In the late 80's, his fascination with sensitivity and richness of Brazilian music resulted in his first solo album "Hazzazar". Around the same time he toured as a bass player with the New York Broadway Ensemble (West Side Story), played throughout Europe with master harp player Ruediger Oppermann, and performed a Concerto as soloist on fretless bass with the "Ars Quittilinga" Chamber Orchestra. Hans co-founded the German World-music cult band, Moka Efti, and they recorded/produced three CDs.
Hans is lauded for his "sweet, comfy tenor and expressive acoustic guitar work that place him in the upper echelon of music makers." A winner at the esteemed Kerrville New Folk Festival, Hans has a voice that is both uplifting and worldly. His later music is of substance and reflects the American roots of his youth. Now in 2015 Hans is back on the road delighting audiences from all over the US.
---
| | | |
| --- | --- | --- |
| | Sunday, August 23 Muriel Anderson World-Famous Fingerstyle Guitarist and Harp-Guitarist | |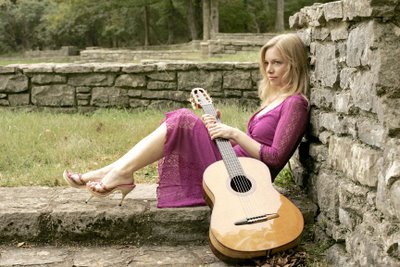 One of the world's foremost fingerstyle guitarists and harp-guitarists, Muriel Anderson is the first woman to have won the National Fingerstyle Guitar Championship. An engaging performer, her obvious joy of music, humor, and facility across musical genres is revered by guitarists and audiences worldwide. She has recorded with country legend Chet Atkins, performed in New York with Les Paul, across the globe solo, in ensemble and with orchestras. She is host and founder of Muriel Anderson's All Star Guitar Night, the premiere live music event for over 20 years at the semi-annual NAMM music trade shows, and also the founder of the Music for Life Alliance charity. She is a prolific composer of music on guitar and harp guitar.
Her unique approach to the instrument virtually transforms the guitar into a lyrical choir, then a marching band, then a Japanese koto, then a Bluegrass band, one minute launching into a Beatles tune and the next, Rodrigo's Concerto de Aranjuez.
Her Heartstrings cassette traveled into space, accompanying astronaut Susan Helms for 2.3 million miles on the space shuttle Discovery. Muriel's music can also be heard in Woody Allen's film Vicky Cristina Barcelona. She enjoys touring as is evidenced by her "photos from the road" and "recipes from the road" on her website. Her new double CD Nightlight Daylight is a culmination of her creative spirit, and is also the first CD to incorporate fiber optics in the packaging.
---
| | | |
| --- | --- | --- |
| | Saturday, August 22 West Coast Live Fascinating Interviews and Ear-opening Music | |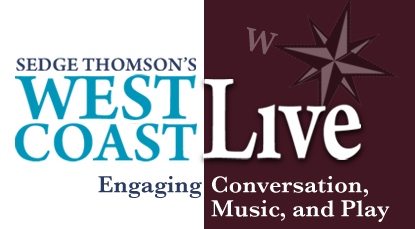 We spent our Saturday morning in the company of West Coast Live - a fully live national 2-hour radio variety show hosted every weekend by Sedge Thomson and featuring author interviews, music, and comedy.
Live from Studio 55, Sedge welcomed:
DAVID SHIELDS, the fascinating thinker and writer's new works include That Thing You Do With Your Mouth and I Think You're Totally Wrong.
BOX SET, the outstanding Americana band serves up their phenomenal guitar playing and rich vocal harmonies.
THE AMIGOS, deliver foot-stomping, accordion-infused Indie-Americana music blending folk-rock, zydeco/cajun, and hot jazz.
CLAIRE PEASLEE, the Point Reyes naturalist speaks of the living-world phenomena at present in the California Current.
And More!
---
Friday July 24, 2015

Another Great Celtic Show: Fiddles, Harmonies, Dancing, and More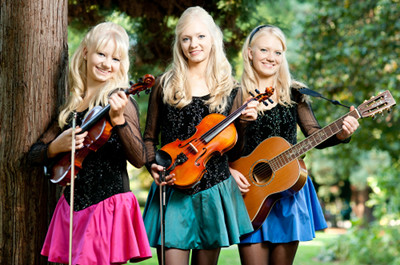 The Gothard Sisters are the tremendously entertaining and dynamic result of infectious youth combined with years of performance experience and quality musical training. Real siblings Greta - on fiddle, guitar, Irish dance and vocals, Willow - on fiddle, mandolin, bodhran, Irish dance and vocals and Solana - on lead vocals, Irish dance, bodhran, fiddle, djembe and just about anything you could pull out of a Mary Poppins bag make up this totally unique band.
With their feel-good melodies, gorgeous sibling vocal harmonies, energetic and imaginative programming, hilarious banter, award-winning original tunes and songs, fresh and inspiring new takes on traditional favorites and a background seeped in musical tradition and quality, this new all-female band (The Gothard Sisters were the winner of Best New Irish Artist in the Irish Music Awards 2013 and were honored with Album of the Year and Jig /Reel of the Year from Celtic Radio in 2011) is making huge waves in the worlds of Celtic and Folk music.
Audiences rave about their live performances, as well as their recorded studio albums. They have packed stages at top Irish festivals, performing arts centers and folk venues around the country and tour extensively throughout the year, one minute bringing their crowds to yell and shout and cheer, the next causing them to tear up with a beautiful ballad from Ireland before heading straight into a comedic rendition of the Devil Went down to Georgia or dueling it out - bodhran versus bodhran. There is never a dull moment in a Gothard Sisters show, and their concerts and sets at festivals have people of every age and background completely enthralled
---
Saturday, June 20, 2015

with Robin Zickel & Sarit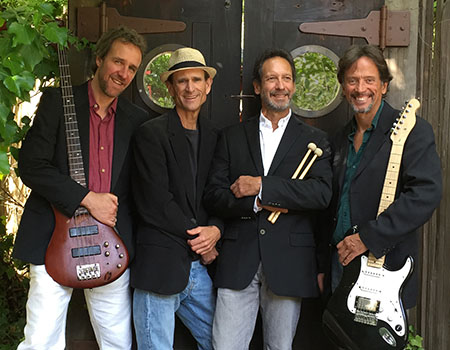 Accomplished instrumentalists and vocalists Bodhi Setchko & Stephen Meese have been performing together on and off for 20 years. As friends and colleagues in numerous bands they have delighted audiences with their warm sense of humor and professional presence. People have been responding to the Setchko & Meese duo with these exclamations: Thank you for the blessing of your voice, your heart, your path, Talented, beautiful, funny, down to earth, The room seemed filled with love, Warm, open hearted songs, A breath of fresh air, Tight and soulful.
Bodhi Setchko Setchko garnered recording deals and critically-acclaimed albums both as a singer-songwriter in the 70's and later as an influential force in the new age/ambient music movement (with Higher Octave recording band CRYSTAL WIND) leading up to his 2006 #1 Hit TRANS UKRAINE on the International ambient charts.
Stephen Meese made a splash from the East Coast to Hawaii, opening for acts like Elton John, The Go-Gos, and Toots & the Maytals. He too has a strong affinity for ambient music as a member of notable Marin-based purveyors of "Music to Feel," Harmonic Healers.
In their previous show at Studio 55 Marin, Setchko & Meese inspired us with the amazing blending of their guitar playing and singing. We are delighted to have them back for another show.
---
Friday, June 12, 2015

A Celebration of Original and Traditional American Music
Molly Tuttle has had nearly two million viewers on YouTube, and features in Flatpicking Guitar and Acoustic Guitar magazines. Molly is making a name for herself in the acoustic music scene. A virtuoso multi-instrumentalist and award winning songwriter with a distinctive voice, Molly has turned the heads of even the most seasoned industry professionals. In recent years she has been awarded the Hazel Dickens Memorial Scholarship award from the Foundation for Bluegrass Music in Nashville, Best Female Vocalist and Best Guitar Player by the Northern California Bluegrass Society, music and composition Merit Scholarships to the Berklee College of Music in Boston, and 1st place in the prestigious Merlefest's Chris Austin Songwriting Competition.

The Tuttle Family is a young super-talented band composed of singers and multi-instrumentalists who have been playing music since they were barely old enough to hold a pick. The band has received numerous awards, and receives standing ovations wherever they play because of their youthful, vibrant performances of old traditional tunes and tasteful new originals. Although they are best known for their bluegrass performances and awards, including being voted "best band" by The Northern California Bluegrass Association two years in a row, this show will feature Molly's songs, singing, and guitar playing. Check out the video above to get an idea of her style. The Tuttles consist of Sullivan Tuttle on guitar, Michael Tuttle on Mandolin, and Jack Tuttle on bass. Jack also is a masterful performer and instructor on fiddle, banjo, guitar and mandolin.

John Mailander is an acclaimed multi-instrumentalist and graduate of the Berklee College of Music in Boston, MA. As an accomplished performer, composer, teacher and recording artist, John has become known for his soulful voice on the fiddle, mandolin and various other stringed instruments. Molly and John often perform together as a duo, and have a wonderful EP together, released last year.

Like the mythical sea maidens of old, Sound of Sirens are mesmerizing audiences with scintillating vocal harmonies and intricate instrumental arrangements. As a finely-woven ancient fishing net, the Sound Of Sirens music will capture and hold you riveted from start to finish. This show will feature blues and rags from the 1920's, old-time traditional songs, originals, and our own take on more recent songs from other composers including Paul Simon and Gillian Welch.

Ken Frankel (guitar, banjo, mandolin) has been part of the California music scene since the 1960's, performing in bands with music notables such as Jerry Garcia, Richard Greene, Rick Shubb, Sandy Rothman, Robert Hunter, and Tom Constanten. Ken has formed and been a member of many prestigious Bay Area groups including Westwind International Folk Ensemble, The Berkeley Mandolin Ensemble, and The Electric Guitar Quartet.

Susan Nielsen (vocals, percussion) has shared stages with Bob Hope, Merv Griffin, Dick Cavett, Alan Alda, John Madden, Bill Cosby, and other national stars. Susan was a featured soloist as a teen at many Bay Area venues and concerts and worked as a professional studio singer. In her 20's she began a successful acting career in film and television and as a voice-over artist. Ken and Susan's most recent band was the well-loved Family Lines.

Kristina Ziese (vocals, percussion) was classically trained for 10 years, sang in many popular bands in Seattle as well as performing as a soloist and in chamber groups. She now has moved to the Bay Area to become one of our "Sirens".

Jared Karol (guitar, harmonica) is is a roots finger-picker and harmonica player, specializing in rags and blues, but great at all acoustic styles. In the early 2000's Jared was an integral part of the San Francisco singer/songwriter scene, and has recorded five CDs of original music. Jared's previous musical endeavor was the reggae band Flannel Canoe.

Scott Underwood (bass) has performed with various Bay Area music acts since the 1980s. In the last ten years, he has played electric and upright bass with such musicians as Annie Zesiger, Harry Gray, Mike Steed, Rick English, and Rik Elswit, and as a member of the alt-country-pop-rock sextet Acoustic Son.
---
Kyle Alden video from this show

Saturday, May 16, 2015

with Vincey Keehan, and Friends

Vincey Keehan video from this show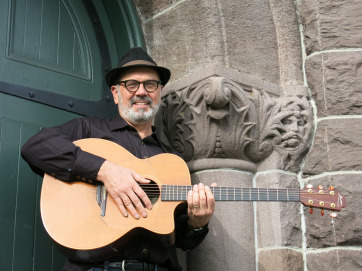 Folk musicians Kyle Alden and Vincey Keehan have played together for years in San Francisco-based Irish trad band The Gas Men. Each of these talented multi-instrumentalists is also an accomplished songwriter and singer. Join them for an evening of new and old folk and original songs highlighting the threads that run between Ireland and California, Kyle's home state and Vincey's adopted state. Sure to be a few lively instrumental tunes as well. Featured guests will include Susan Spurlock (vocals and mandolin) and Paul Eastburn (upright bass), among others.
Award-winning singer/songwriter and folk musician Kyle Alden is a performer who has appeared on stages throughout California, Colorado, the Pacific Northwest and Ireland. His third CD--Songs From Yeats' Bee-Loud Glade -- a collection of thirteen original folk songs inspired by poems of W. B. Yeats -- received world-wide radio airplay and was on three "Best of 2011" lists among folk music DJs. As the 2012 grand prize winner of the Y-Tunes Song Contest for his settings of W.B. Yeats' poetry, Kyle was honored to perform at the Hawks Well Theater in Sligo, Ireland in the summer of 2013. He just returned from New York where he joined Mick Moloney and Athena Tergis in performing a selection of the Yeats songs at Symphony Space on Broadway.
Vincey Keehan is a fine singer/songwriter from the West of Ireland, near Gort, County Galway. He came to America in the early 1980's and has lived in San Francisco since that time; he is well-known on the Irish music scene in both places. Vince is a founding member of the Gas Men, who play regularly around the Bay Area and beyond. Their two albums, "Minding Mice at the Crossroads", and "Clement Street", showcase the many talents of the Irish music scene on the West Coast, including singing, lilting, instrumental music, live tracks and folk and original compositions. His latest project is called "Nights In Shanaglish," which he co-produced with London concertina player Paddy Egan. They gathered a terrific collection of local musicians to play and sing at Whelan's pub in the tiny village of Shanaglish, near the Galway/Clare border. A live audio recording, issued in both CD and vinyl formats, plus a DVD are all part of this amazing collection which captures the magic of spontaneous music-making in a small, rural Irish community.
---
Videos from this show

Saturday, May 9, 2015

Southern Acoustic Roots Music - on Tour from North Carolina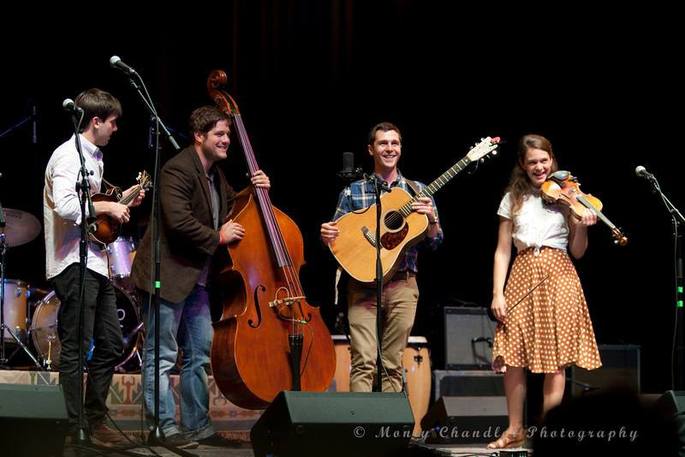 The renegade traditionalists of Mipso are doing their part to take three-and-four-part harmony and Appalachian influences into new territory. Formed in Chapel Hill in 2010, these four North Carolinians are touring the country to support their 2013 release, Dark Holler Pop. They are well loved in their home state, and we're sure they'll soon be well loved in California. Mipso is Joseph Terrell on guitar, Wood Robinson on double bass, Jacob Sharp on mandolin, and Libby Rodenbough on fiddle.
Jacob Sharp is from Morganton, North Carolina. Jacob got his first mandolin after winning a fishing bet with his dad.
Wood Robinson is from Greensboro, North Carolina. A student of jazz, his favorite album is Bill Evans' "Sunday At the Village Vanguard"
Joseph Terrell is from High Point, North Carolina, where his grandmother taught him his first song on guitar, Doc Watson's "Tom Dooley".
Libby Rodenbough is from Greensboro, North Carolina. Though she grew up playing classical violin, Libby took a year off during college to study folk music in Chicago and fiddle in Ireland.
---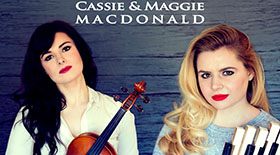 Cassie and Maggie MacDonald encompass everything you could ask for in a musical act, their talent is only surpassed by the joy with which they so generously share it. Exciting and innovative, they have found the perfect balance between musical integrity, and sheer entertainment. While still staying true to their Celtic roots, they have explored and tested the boundaries of traditional music, bringing a breath of fresh air to the genre with their original compositions and arrangements. sisters, cohorts and collaborators, Cassie and Maggie have been enchanting audiences far and wide with their infectious energy, driving rhythms and lilting melodies.
Born to a family with a rich musical heritage and raised in Nova Scotia, a province steeped in musical culture and traditions, the girls have used their unique upbringing as a springboard for their own brand of Celtic roots music. Equally at home playing tunes passed down through generations of musicians, as seamlessly weaving themes from the Moonlight Sonata into sets of sure fire reels, Cassie and Maggie are turning heads wherever they go. And the music community has taken note; Galaxie Radio Rising Star award winners, Canadian Folk Music Award nominees for "Young Performers of the Year", East Coast Music Award nominees for Traditional Album and double Music Nova Scotia Award nominees for New Artist and Roots Album of the year, their accolades and awards speak of a young duo that will surely continue to do great things.
Appearing on stages across Canada, the United States, France, Germany, Bermuda and the UK, the list continues to grow as people are beginning to know the names Cassie and Maggie MacDonald. Since their first festival performance at the Goderich Celtic Roots Festival in Ontario, the girls have gone on to be soloists in the Royal Nova Scotia International Tattoo and International Polizi Show in Hamburg, Germany, perform for the French Ambassador in Paris, France, play at the independence day celebrations on Bermuda Island, the Lunenburg Folk Harbour festival, Celtic Classic festival, Stan Rogers International Songwriters festival, Festival Memoires et Racines in Jolliette, QC to name a few. This year will prove to be the busiest and most exciting yet with performances at the Milwaukee Irish Festival, Celtic Colours International festival and Ocrafolk festival in NC, again, just to name a few.
---
Friday, April 24, 2015

Brooklyn band on tour, plus local favorites

JimBo Trout video from this show
There was a time when Appalachian strings made romance with New Orleans rhythms, a love affair that yielded one of the most infectious beats the world had ever heard. For Roosevelt Dime that time is now. Some would call it Rock & Roll, others Americana, but "Mardi-Grass" is more like it - a bedrock of New Orleans rhythms that brings driving, melodic banjo, fat-back blues guitar, pure honky-tonk harmonies, and deliciously dirty R&B vocals along for the ride - it makes for a groove so inspired the New York Times has called Roosevelt Dime "a perpetual crowd pleaser."

This musical alchemy is purely American, transforming struggle into celebration, pain into perseverance, and taking the joyous beat from sidewalks and streetcars to backrooms and barrooms, from the ample hills of Brooklyn to the amber waves of grain. The formula is no accident. From their early days performing on the streets of New York City Roosevelt Dime learned what it takes to stop a stranger in their tracks, turn that stranger from a commuter into a listener, and from a listener into an unstoppable sidewalk strutter. Their high energy live shows have thrilled audiences at premier festivals across the country.

JimBo Trout & the Fishpeople are a high energy, good-time band from San Francisco that has been together since 1992. They perform a musical gumbo made up of bluegrass, ragtime, blues, western-swing, Appalachian, rock+roll, New Orleans, honky-tonk and more. But they are not a band that would let tradition stand in the way of a good time! JimBo Trout and the Fishpeople are known for their entertaining, energetic and danceable live shows.

JimBo Trout and the Fishpeople are fun for all ages. They perform at restaurants, nightclubs, cafes, weddings, dances, festivals, street fairs, retirement homes, and children's parties. The band has performed at many top clubs and festivals, including Hardly Strictly Bluegrass (2005), The Great American Music Hall, The Independent, Slim's, Bottom of the Hill, and the San Francisco Bluegrass & Old-Time Festival (eight years in a row). JimBo Trout and the Fish People have opened for Dr. John, Johnny Winter, The Freighthoppers, Wayne Hancock, The Gourds, Hot Club of Cowtown, The Squirrel Nut Zippers, Cake, Calexico, Doo Rag, The Iguanas, Riders In the Sky, Drew Emmitt, Dale Watson, Jeff Buckley and Southern Culture on the Skids among others.
---
Videos from this show

Saturday, April 18, 2015

Famous Virtuoso Guitarist-Singer-Songwriter with Violinist-Vocalist Son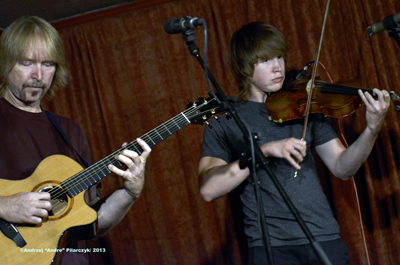 The unique relationship of a father and son cannot be argued nor explained, but when the relationship includes musical passion, virtuosity and showmanship - magic happens! Tim and Myles Thompson have been inspiring audiences throughout the country. With recent performances that include the Montreal Jazz Festival, Walnut Valley Festival, and the Chet Atkins Festival, they have polished their craft to a fine luster. The duo has opened for Spyro Gyra, Don Williams, Mountain Heart, and Richard Elliot.
Tim is a Nashville based session player, singer/songwriter and the 2008 International Fingerstyle Champion. Music has always filled the Thompson home; unknowingly it inspired Myles to pick up the violin at the tender age of five! By the age of twelve he was studying music theory and improvising with skill beyond his years - it was clear that music would be his life. Today at the ripe old age of nineteen Myles is also a prolific singer/songwriter and mandolin player. If you ask his dad or an audience member, they will tell you that Myles fancies himself as quite the comedian, most often at his dad's expense.
Tim Thompson has appeared with such artists as Tommy Emmanuel, Crystal Gayle, and Hwy 101. He has recorded eleven CDs and two DVDs. He has been featured in the following magazines, Taylor Guitar's Wood and Steel, Just Jazz Guitar and Fingerstyle Guitar which said, Tim Thompson is a Nashville based finger-stylist that burns! Tim's songwriting and guitar skills have been featured in a series of workshops sponsored by NSAI (Nashville Songwriters Association), Jorma Kaukonen's Fur Peace Ranch, Steve Kaufman's Guitar Camp, as well as middle and high schools and colleges. His original music has been featured as bumper music on NPR, Casper's Haunted Christmas CD and the Flip Video Camera software.
---
Saturday, March 14, 2015

Country Music Star, Accompanied by Pam Delgado and Nina Gerber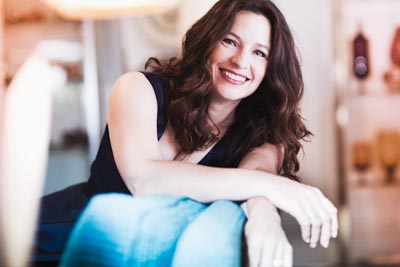 Devils are not the only thing to come from Tasmania. Audrey Auld's heart is in Country, Folk and Roots music with a presence as big as The Outback. A fearless entertainer, an honest and witty writer, Audrey is never afraid to venture into the dark places of life and shine a humorous light upon them. Her songs are heard on the Grand Ole Opry, recorded by Nashville stars and descendents of the Carter Family, included in TV shows ('Justified', 'The Good Guys', 'Longmire', NCIS New Orleans') and played within the walls of San Quentin Prison where she has hosted numbers writing workshops. Her latest album, 'Hey Warden', is a collection of co-writes with the inmates. Audrey calls her style, "music with the dirt left on". Auld lives in NorCal with her plumber husband and 2 good dogs, making jewelry, writing songs, recording and beach-combing.
"The only problem with Auld is trying to decide if she's more remarkable as a singer or a songwriter, which isn't the worst problem an artist can have." ~ John Conquest, 3rd Coast Music, Austin, TX, April 2012
"It's one thing for singers to write beautifully and sing beautifully, but when they're also funny, as in stand-up-comic funny, it makes going to their shows not only pleasurable but also memorable, well beyond the exit ramp headed back home. How many times do you leave a concert and find yourself quoting lines the singer says in between the songs? Such is the case with Tasmanian native Audrey Auld." ~ Dallas Morning News, TX
---
Videos from this show

Saturday, March 7, 2015

Contagiously Energetic Irish Music, On Tour from Ireland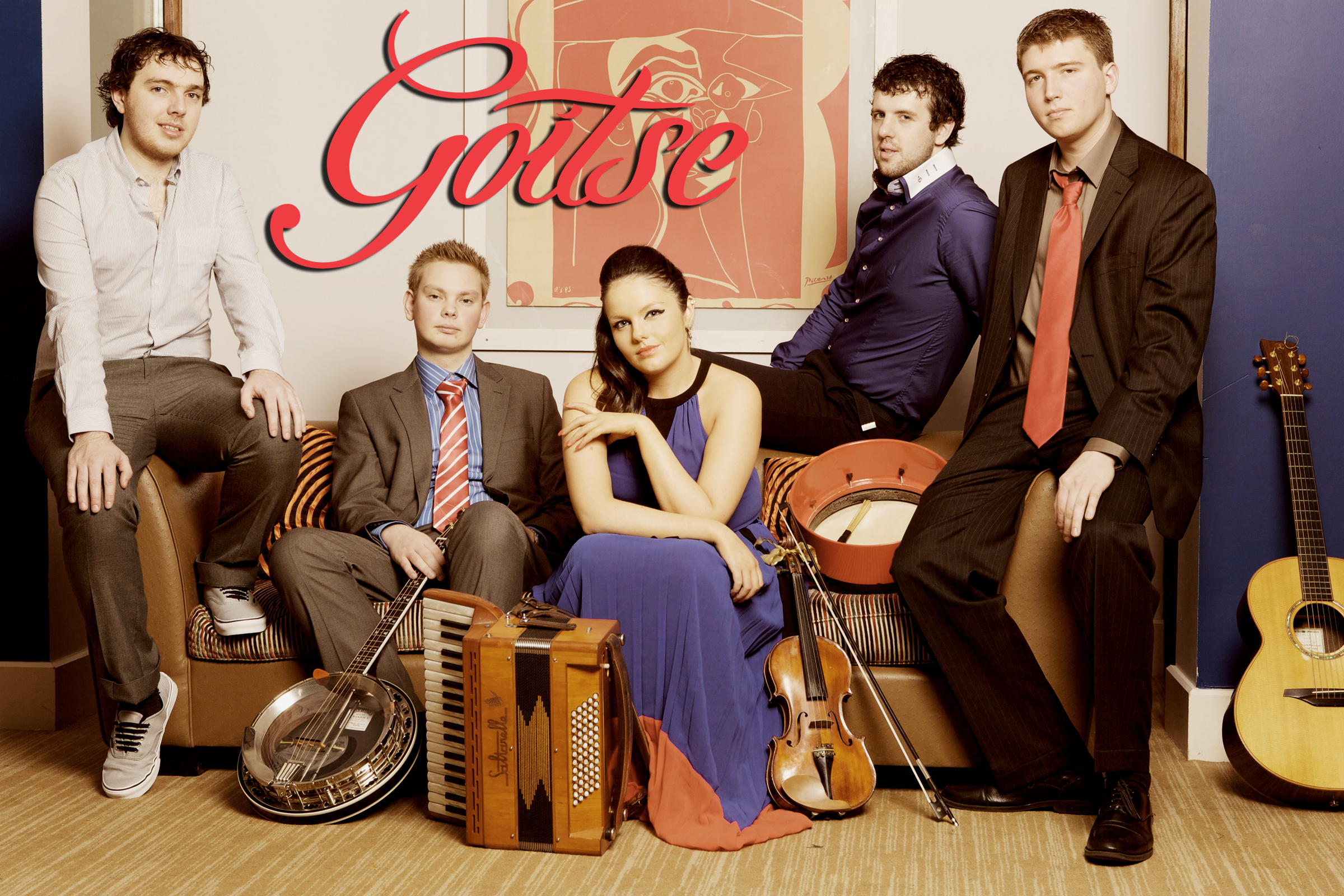 Forged in the white-hot creative crucible of Limerick University's Irish World Academy of Music and Dance, the quintet have graduated with a musical maturity worthy of the greatest. They have made a name for themselves as one of the most sought after bands amongst connoisseurs of Irish Traditional music cross the globe, with their performances gaining notoriety across four continents. Having won feverish critical plaudits for their Dónal Lunny-produced second album Transformed, the band has skyrocketed to the forefront of the traditional Irish music scene.
Their distinctive sound lies in the quality of their own compositions interspersed with traditional tunes from Ireland and abroad, which make each set entertaining and unique. Laying the foundations for the music are World and All-Ireland bodhrán champion Colm Phelan and Conal O'Kane, who is fast making a name for himself as one of the finest guitarists of this generation. The gripping rhythm section sets a breaktaking pace for the music while the sweet, charismatic voice of Áine McGeeney draws audiences into the music in a way very few performers can achieve. When not singing, Áine's energetic style of fiddle playing is complimented hugely by multi-award-winning banjo and mandolin virtuoso James Harvey. His ability to transcend genres, combined with his unparalleled technical ability is a joy to behold. Bridging the gap between melody and accompaniment is the piano and piano accordionist, Tadhg Ó Meachair. The Dublin native is renowned for his unique approach to bass work and accompaniment, while also having picked up national awards for his melody playing. Lace up your dancing shoes and get ready for a night of wonderful music and fast paced fun with Goitse.
Goitse is an informal Gaelic Irish greeting meaning come here.
---
Videos from this show

Saturday, February 14, 2015

Lloyd Barde Productions Presents:

Valentine's Day Concert In the Key of Love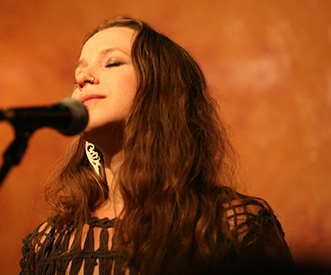 Kristin Hoffmann offers a uniquely beautiful blend of pop and classical styles. Kristin is a singer-songwriter who has a gift, one we can all experience through her ability to be open. As a human compass, she navigates through her own waters right into ours, with sound, like poetry without words. Her perfect pitch is a serene perfume. We, as an audience, are the witnesses and we watch as she volunteers her soul's journey. Starting at the age of 4, this ethereal renaissance pop songstress and multi-instrumentalist began building a prolific career that reads like a lifetime achievement award speech. In addition to stints at major record labels and song placements on hit TV shows like Dawson's Creek and Palmetto Pointe, she has shared stages with The Wallflowers, Feist, Brandi Carlile and many other musical luminaries. With a strong sense of artistic altruism, she is most passionate about projects that explore music's healing power and allow listeners to tap into their higher potentials.
Having studied with Sound Healing pioneer Fabian Maman, Hoffmann not only made music to accompany acupuncture sessions but also composed 170 songs for health-challenged children as a writer/producer at non-profit organization Songs of Love. A spokesperson for ocean conservation, she has performed her Song for the Ocean at environmental awareness conventions around the world. In 2011 she became the singer for Bella Gaia, a multimedia immersive theater ensemble experience created in conjunction with NASA. Her most recent work includes a self-produced album entitled The Human Compass (2012) and a symphonic collaboration with composer Marco Missinato called Unfolding Secrets: A Symphony of the Heart.
Similar perhaps to Tori Amos, Stevie Nicks, Fiona Apple, and Joni Mitchell, she easily slides into a Tina Malia or Donna De Lory vein at a moment's whim, switching with ease between guitar and keyboards . With half a dozen powerfully varied releases over the past decade and praise-filled reviews, Kristin is an artist to embrace, discover and move mountains with.
---
Dirty Cello video from this show

Friday, February 13, 2015

Cello Like You'veNever Heard Before

Tracy Blackman video from this show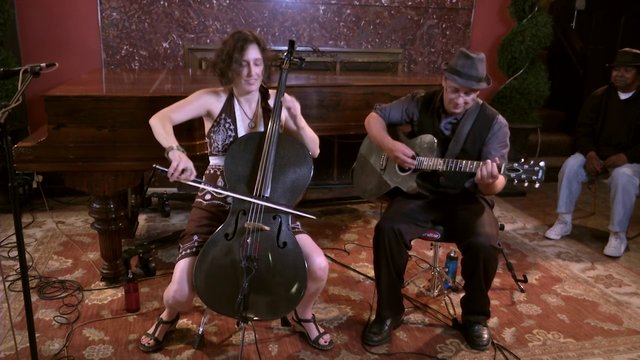 Starting with a bang and never stopping, Dirty Cello features the virtuosic cello stylings of Rebecca Roudman, one of the San Francisco bay area's most exciting cross-over cellists. Dirty Cello takes you on a wild tour of uptempo music featuring down home blues, Eastern- European dance music, a bit of bluegrass, and some classic rock.
With a truly unique voice, Dirty Cello presents a high energy performance of everything a cello can do. Having wowed audiences in numerous tours throughout the U.S., plus acting as cultural ambassadors to China and working the Europeon festival circuit, Dirty Cello has a unique voice that's resonated around the world.
Tracy Blackman is an award-winning, musical performing and recording artist residing in Marin County. Soulful, stirring, authentic: heartfelt singer songwriter Tracy Blackman is all of these. Her dynamic and powerful voice has the ability to transport the listener into the heart of any song she sings. As a songwriter, she pens songs that deeply touch the soul with infectious hooks and grooves melded with a tasteful fusion of blues, pop, jazz and rock reminiscent of Rickie Lee Jones.
---
Video from this show

Friday, February 6, 2015

SF Live Arts presents:
David Jacobs-Strain is a fierce slide guitar player, and a song poet from Oregon. He's known for his virtuosity and spirit of emotional abandon, as well as his clear, powerful voice. His music moves from humorous, subversive blues, to delicate balladry, and then swings back to swampy rock and roll. It's a range that ties him to his own generation and to guitar-slinger troubadours like Robert Johnson and Jackson Browne. He has appeared at festivals from British Columbia to Australia, including Merlefest, Telluride Blues Festival, Philadelphia Folk Festival, Hardly Strictly, Bumbershoot and Blues to Bop in Switzerland and has toured with Boz Scaggs, Etta James & Lucinda Williams.
David Jacobs-Strain sings and plays slide-driven country blues with a passion and authority that few artists of any age can muster. But besides firing off compelling covers of traditional tunes... his original songs have served to update and evolve the idiom. - Guitar Player Magazine
Bob Beach has been a working professional musician for more than 40 years, adding harmonica, flute and vocals to a broad scope of genres. As a sideman he has recorded or performed with national acts such as; Ollabelle, Langhorne Slim, the Avett Brothers, Pat Wictor, Beaucoup Blue, Fruit and many more. David and Bob recently released Live From the Left Coast.
Chris Ayer is a singer-songwriter based out of Los Angeles. In the last few years, Ayer has played over 1000 shows in the US & Europe. In 2013 he released his third album, called "The Noise", and is busy writing songs for his fourth.
---
Videos from this show coming soon

Thursday, February 5, 2015

World-Famous Fingerstyle Guitarist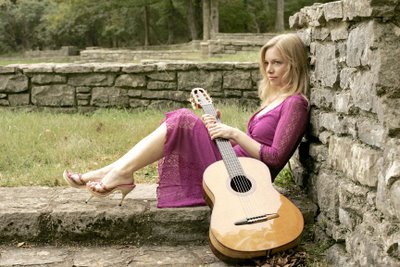 One of the world's foremost fingerstyle guitarists and harp-guitarists, Muriel Anderson is the first woman to have won the National Fingerstyle Guitar Championship. An engaging performer, her obvious joy of music, humor, and facility across musical genres is revered by guitarists and audiences worldwide. She has recorded with country legend Chet Atkins, performed in New York with Les Paul, across the globe solo, in ensemble and with orchestras. She is host and founder of Muriel Anderson's All Star Guitar Night, the premiere live music event for over 20 years at the semi-annual NAMM music trade shows, and also the founder of the Music for Life Alliance charity. She is a prolific composer of music on guitar and harp guitar.
Her unique approach to the instrument virtually transforms the guitar into a lyrical choir, then a marching band, then a Japanese koto, then a Bluegrass band, one minute launching into a Beatles tune and the next, Rodrigo's Concerto de Aranjuez.
Her Heartstrings cassette traveled into space, accompanying astronaut Susan Helms for 2.3 million miles on the space shuttle Discovery. Muriel's music can also be heard in Woody Allen's film Vicky Cristina Barcelona. She enjoys touring as is evidenced by her "photos from the road" and "recipes from the road" on her website. Her new double CD Nightlight Daylight is a culmination of her creative spirit, and is also the first CD to incorporate fiber optics in the packaging.
Muriel fell in love with the guitar at an early age and learned every style available to her, beginning with folk, bluegrass, and then jazz in high school. She received a degree in music from DePaul University and went on to study with classical virtuoso Christopher Parkening and with Nashville legend Chet Atkins. She has composed music since about age five, and has written solo instrumentals and vocals, choral and orchestral compositions.
---
If you have any questions, email us: Studio 55 Marin
For booking information, email Ken Frankel
Or telephone us at (415) 453-3161