Studio 55 Marin
Click to Select a Different Year
---
PREVIOUS SHOWS IN 2014
---
Saturday, December 6, 2014

Lloyd Barde Productions Presents:

one of the most beautiful & alluring voices on the planet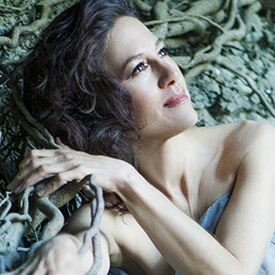 There is nothing like a Donna De Lory Concert! The more intimate the better. Studio 55 Marin is the perfect intimate setting for Donna, and space is limited! Donna is one of the finest singer/songwriters in the realm of spiritual pop music with a voice that is unparalleled in its versatility and emotional expression. Donna De Lory's new album "The Unchanging" is one of the most deeply personal artistic statements in her deep catalog of mantra music classics. But it resonates on a universal level as well, bathing the listener in chilled out electronic textures, world flavors, sonorous string arrangements, tender balladry and lyrics that touch on the heart's eternal truths. And, as always, Donna's sublime voice has the power to lift us all into realms of pure bliss.
With a string of best-selling and much-loved albums including The Lover and The Beloved (2004), Sky is Open (2006), Sanctuary (2008) and Remixes (2010), Donna De Lory has become one of the reigning queens of world devotional music. Her rapturous performances at yoga and consciousness festivals like BhaktiFest, Omega and Lightning in a Bottle are like one big musical group hug. But before devoting her life to singing sacred mantras and lyrics of spiritual aspiration, Donna traveled the globe for 20 years as a backup singer and dancer for Madonna, and rocked international dancefloors with her own pop music. Donna's latest album, The Unchanging, is a joyous distillation of all that vast experience. De Lory's musical perspective is as wide as the world itself a glistening, multifaceted reflection of her broad experiences in life and music, all while raising a family and expanding her musical vision beyond the imagination.
With fearless vision and consummate mastery, Donna De Lory has appropriated the grand scope and all-inclusive universality of pop music and married it with the heartfelt purity and emotional honesty of devotional music. Above all, it is Donna's voice, fiery and passionate yet with a childlike innocence, that reaches people. Donna rocks us again with the divine elixir of her extraordinary voice remixed with new music alchemy for yoga, dance, and making love to life... Donna's concerts bring the house down and raise the sky. -- Shiva Rea
---
Videos from this show

Saturday, November 22, 2014

Solo Performance Debut at Studio 55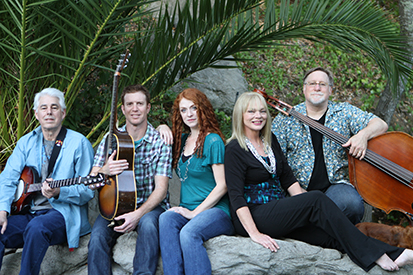 Like the mythical sea maidens of old, Sound of Sirens are mesmerizing audiences with scintillating vocal harmonies and intricate instrumental arrangements. As a finely-woven ancient fishing net, the Sound Of Sirens music will capture and hold you riveted from start to finish. This show will feature blues and rags from the 1920's, old-time traditional songs, originals, and our own take on more recent songs from other composers including Paul Simon and Gillian Welch.
Ken Frankel (guitar, banjo, mandolin) has been part of the California music scene since the 1960's, performing in bands with music notables such as Jerry Garcia, Richard Greene, Rick Shubb, Sandy Rothman, Robert Hunter, and Tom Constanten. Ken's rock band Ill Wind was a New England phenomenon and a leader of the psychedelic music scene, recording with ABC Records. Ken has formed and been a member of many prestigious Bay Area groups including Westwind International Folk Ensemble, The Berkeley Mandolin Ensemble, and The Electric Guitar Quartet. Ken and Susan's most recent band was the well-loved Family Lines.
Susan Nielsen (vocals, percussion) has shared stages with Bob Hope, Merv Griffin, Dick Cavett, Alan Alda, John Madden, Bill Cosby, and other national stars. Susan was a featured soloist as a teen at many Bay Area venues and concerts and worked as a professional studio singer. In her 20's she began a successful acting career in film and television and as a voice-over artist. Susan is a member of Screen Actor's Guild and American Federation of Television and Radio Artists, and has now returned to her musical roots as a vocalist and composer.
Kristina Ziese (vocals, percussion) was classically trained for 10 years, sang in many popular bands in Seattle as well as performing as a soloist and in chamber groups. She now has moved to the Bay Area to become one of our "Sirens".
Jared Karol (guitar, harmonica) is our new guitarist. He is a wonderful roots finger-picker and harmonica player, specializing in rags and blues, but great at all acoustic styles. In the early 2000's Jared was an integral part of the San Francisco singer/songwriter scene, and has recorded five CDs of original music. Jared expanded his musical repertoire in the East Bay reggae band Flannel Canoe for five years, and is now back to playing the American roots music with Sound of Sirens.
Scott Underwood (bass) has performed with various Bay Area music acts since the 1980s. In the last ten years, he has played electric and upright bass with such musicians as Annie Zesiger, Harry Gray, Mike Steed, Rick English, and Rik Elswit, and as a member of the alt-country-pop-rock sextet Acoustic Son.
---
Video from this show

Saturday, November 8, 2014

Global, Local & Homemade Songs TM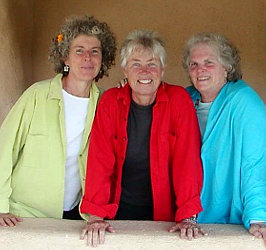 Whether it's a polyrhythmic groove on juju magic, a playful musing on the rhythm of the heartbeat, a march about the mating season of tarantulas, a swing on spring fever, or rockin' and rollin' with a ride on the happiness train, Terry, Becky & Elise cook from the minute they hit the stage. Bringing 3 uniquely different voices to the blend, their harmonies spread a web of joy and the delight of singing together.
ELISE WITT (from Atlanta, Georgia) . From the melodies of her birthplace in Switzerland, the rhythms of Africa and Latin America, her North Carolina childhood, to the writing of her own songs, Elise's music is a gumbo that spans styles, genres, countries, and times. Her straightforward charm and pure, strong voice are truly fine music to the ears. Elise speaks fluent Italian, French, German, Spanish, and English and sings in over a dozen languages. She has 11 recordings on the EMWorld label. Her songs have been used in several documentary films, and include the anthem Open the Window. Elise has crisscrossed the United States performing her songs, including at Carnegie Hall and Lincoln Center.
BECKY REARDON (from Taos, New Mexico). Becky's silky jazz-infused sound coupled with a deep connection to nature and expert guitar work make her music a must. Her songs and rounds are sung in song circles and by university and community choirs all across the United States, Canada, and the British Isles. Becky was a featured performer at the international GALA Festival of Choirs in 2012, and her song Venus was performed during the NASA webcast of the Venus transit of the sun in June last year.
TERRY GARTHWAITE (from Marin). With a voice both "sassy & touching", and a taste for fun, Terry has been creating infectious music since the '70s in the Joy of Cooking band. She cooks with rhythm. Terry is an internationally known singer, songwriter, composer, producer, and teacher. In addition to her several albums with Joy of Cooking, Terry has recorded a dozen others by herself or in collaboration with other jazz and blues musicians. In performance she has shared the stage with such artists as BB King, Janis Joplin, Bonnie Raitt, The Band, Allen Ginsberg, Santana, Rosalie Sorrels and writer Bobbie Hawkins at venues that include Carnegie Halland the Hollywood Bowl.
---
As this band writes on their web site, We came together in San Rafael, California in the spring of 2013 as part of an Americana ensemble class with Roots Music Marin, a small community music school dedicated to teaching our corner of the world how to play acoustic music. The six-week course was led by fiddler and instructor supreme, Steve Gardner (Culann's Hounds, Beso Negro), whose motto from day one was "everyone solos, everyone sings!" Dude meant it, too. Steve helped us work out arrangements of some great songs that we still play, and pushed us to improve on our individual instruments and as a band.

&nbsp &nbsp They describe themselves as a San Francisco Bay Area band that plays acoustic-based original roots music and versions of some of our favorite traditional, country, Americana, and rock songs. We are Jason Loeks on upright bass, Evan Kishineff on guitar, Alexis Hyatt on fiddle, Dan Gabel on mandolin, Dave Tavel on drums, with everyone contributing vocals.

In addition to his many students, Steve also teaches a regular Americana band class at Roots Music Marin, where individual musicians come together to form a band. To see what can happen at these classes, read about Minus Mary (to the left).

&nbsp &nbsp The current class features accordion, dulcimer, stand up bass, guitar, fiddle and two-part vocal harmonies. The class has expanded the repertoire slightly to include a Cajun song (in French) and a modern piece in addition to standards from the American songbook. They focus on learning a 45 minute "set" of music and are held to professional standard of quality. This class consists of Corinne Reif on dulcimer and vocals, Victor Vasquez on fiddle and vocals, Jason Roberts on bass, Sara Gardner on accordion and vocals, and accompanied by Steve on guitar.

Steve's students (ages 9-15) will perform pieces from his standard teaching repertoire including Irish fiddle tunes, Modern Scandinavian pieces and Old Time American classics. Steve's approach is based on presenting students with tunes that will inspire his students to play their instrument out of love for the music.

&nbsp &nbsp In addition to being the Artistic Director of Roots Music Marin, Steve was also our founder and has been a board member since our inception. He has been teaching privately for over 15 years, and through Roots Music Marin since he started the school several years ago.

&nbsp &nbsp Steve is a founder and member of the Irish folk punk band Culann's Hounds from 1999 to present, and a founder and member of the Gypsy rock band Beso Negro from 2009 to the present. He has Toured America and Europe many times with his two bands and with country diva Danni Leigh. He has recorded for Grammy Award winner Bobby Ozuna, Goapele, Jake One, Freeway and a plethora of other projects.

Michelle Levy is certified in both the Mark O'Connor String Method and the Orff-Shulwerk approach to teaching music. Specializing in Early Music, folk fiddle styles, and improvisation, she nurtures creative string players with solid technique! Michelle teaches ages 3.5 through adult and offers fun and alternative performance opportunities to the usual "student recital," including playing for English Country and Contra dances with her bands!

&nbsp &nbsp Michelle is proud that many of her students--both children and adults-- now enjoy playing for dances/social gatherings for fun, or enjoy playing as part of religious services in their congregations. Those who have entered competitions have had much success. Most recently, one of her 13 yr. old student was accepted as first violinist in the Livermore-Amador Symphony Youth Orchestra (LASYO) for ages 13-21, and a ten yr old student performed as a soloist in her recent school orchestra concert! Another student, age 6, just won first place in the talent show at her school playing "Soldier's Joy" from Mark O'Connor Book 1!
---
Thursday, October 23, 2014

featuring Ezra Landis on guitar and Tripp Dudley on percussion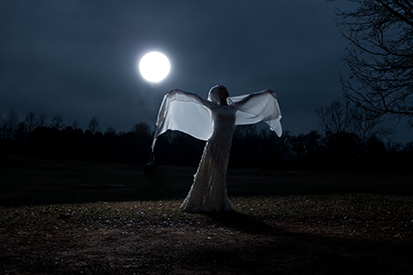 Healing, Hypnotic, Mystical, and Majestic are just a few of the words that are frequented when describing the music of Simrit. Born to a Greek singer in Athens, Greece who wasn't able to take care of children at the time, Simrit was adopted into the United States and raised in South Carolina by another Greek family when she was just over a year old. She was steeped and studied in the mystical Byzantine music of Greece from a young age and also influenced by the classical and folk music of Greece. She also grew up expanded by the swirling sounds of Singh Kaur, Led Zeppelin, Mazzy Star, Bob Marley, Jeff Buckley, Loreena McKennitt, the devotional music of India and Africa, and many others. As a child she was joined and raised with a brother with special needs who was also adopted from a different family in Greece. With her unique upbringing with no one in her family that was blood related, Simrit learned at an early age that connection is incredibly deep and profound through the heart and soul. Her voice has been what she has always experienced as her true connection to herself and others. Simrit's energy and music have a way of merging the soul, deeply touching people and understanding them.
Simrit is an independent artist who runs her own record label, Simrit Kaur Music. She has taken on all the roles of her label, and has recently formed a team that has been crucial in her growth and development. She has released three self-funded albums so far. Two of them have hit the iTunes Top World Charts, with her newest self-titled album reaching the #2 spot. A prolific artist with a deep and natural connection to melody, Simrit is currently working on her 4th album to be released in the summer of 2015. She will have released four albums in just five years. She tours the globe and has played throughout the USA, Mexico, Canada, China, and she continues to travel to new countries to share her gifts of inspiration and healing through music. She is a Renaissance woman who revolutionizes mantra music and uses her music as a contribution for the gathering and healing of the people.
The Revolution is the courage to be who we really are. To speak our truth in the midst of fear. To be authentic, no matter what people may think or say. It is the strength to walk alone knowing we are not alone, and it is the strength to walk together in the unknown. And knowing together in our true connection through the heart that we can make a difference in each other's lives. - Simrit
---
Videos from this show

Saturday, October 18, 2014

3 women, 2 men, 2 fiddles, cello, bass, mandolin, & three part harmonies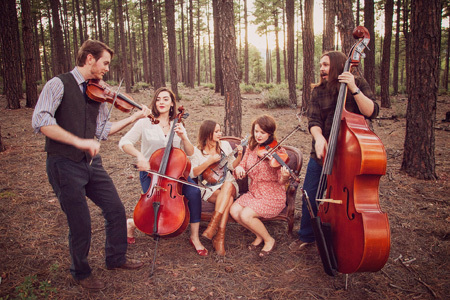 The unique sound of Run Boy Run is rooted in the traditional music of the Appalachian South. In recent years, bands like Nickel Creek, Crooked Still, and others have revived a sense of innovation in traditional American music. Run Boy Run continues this journey into music that is dynamic, orchestral, and overflowing with beauty. Three strong female voices weave a spectacular tapestry of sound. Award-winning fiddle cuts a path for a tightly formed rhythmic front. Every arrangement is - at it's core - beautiful.
From winning the band contest at Pickin' in the Pines to playing on stage at the Telluride Bluegrass Festival as band contest winners in 2012, to making a second appearance on A Prairie Home Companion in St. Paul in 2013, Run Boy Run is spreading this special brand of music to all who would hear. With the release of the full length album So Sang the Whippoorwill in March of 2013, Run Boy Run is making more people dance, cry, and sing than ever. A Prairie Home Companion host Garrison Keillor was impressed enough that he penned the liner notes to this CD.
Brother and sister, Matt (fiddle, guitar) and Grace Rolland (cello, vocals), have fiddle music running through their blood. Raised with bow and rosin on every bedside table, Run Boy Run was a natural fit. Sisters, Bekah (fiddle, vocals, guitar) and Jen Sandoval (mandolin, vocals), grew up deeply rooted in the Bluegrass festivals of Arizona, so they too found a home in Run Boy Run. Jesse Allen (bass) was brought up on opera and western swing, and grew to love the natural fusion inherent in American music. The whole truly exceeds the sum of the parts as touches of classical, jazz, and folk express themselves through the old-time core of Run Boy Run's unique sound.
When I hear Run Boy Run, it all comes back to me, why I started doing that show back then. I hope they go on forever. - Garrison Keillor, A Prairie Home Companion
---
Friday, October 17, 2014

Lloyd Barde Productions Presents:

In her Bay Area Concert Debut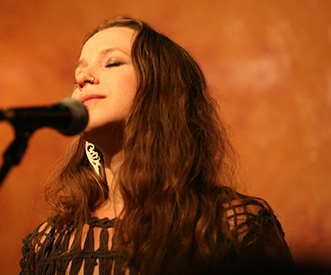 Kristin Hoffmann offers a uniquely beautiful blend of pop and classical styles. Kristin is a singer-songwriter who has a gift, one we can all experience through her ability to be open. As a human compass, she navigates through her own waters right into ours, with sound, like poetry without words. Her perfect pitch is a serene perfume. We, as an audience, are the witnesses and we watch as she volunteers her soul's journey. Starting at the age of 4, this ethereal renaissance pop songstress and multi-instrumentalist began building a prolific career that reads like a lifetime achievement award speech. In addition to stints at major record labels and song placements on hit TV shows like Dawson's Creek and Palmetto Pointe, she has shared stages with The Wallflowers, Feist, Brandi Carlile and many other musical luminaries. With a strong sense of artistic altruism, she is most passionate about projects that explore music's healing power and allow listeners to tap into their higher potentials.
Having studied with Sound Healing pioneer Fabian Maman, Hoffmann not only made music to accompany acupuncture sessions but also composed 170 songs for health-challenged children as a writer/producer at non-profit organization Songs of Love. A spokesperson for ocean conservation, she has performed her Song for the Ocean at environmental awareness conventions around the world. In 2011 she became the singer for Bella Gaia, a multimedia immersive theater ensemble experience created in conjunction with NASA. Her most recent work includes a self-produced album entitled The Human Compass (2012) and a symphonic collaboration with composer Marco Missinato called Unfolding Secrets: A Symphony of the Heart.
Similar perhaps to Tori Amos, Stevie Nicks, Fiona Apple, and Joni Mitchell, she easily slides into a Tina Malia or Donna De Lory vein at a moment's whim, switching with ease between guitar and keyboards . With half a dozen powerfully varied releases over the past decade and praise-filled reviews, Kristin is an artist to embrace, discover and move mountains with.
---
This tour supported by

Saturday, October 11, 2014

Traditional Band on Tour from Country Clare, Ireland

Videos from this show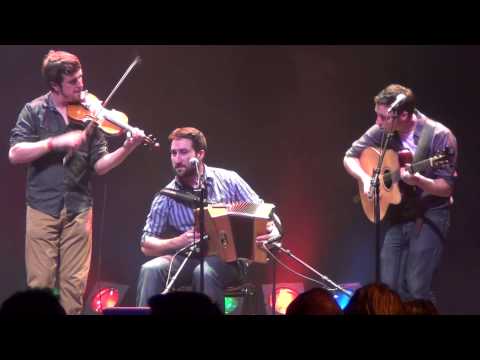 The band comprises two brothers, Shane and Fiachra Hayes on accordion and fiddle/banjo and accompanied by Aodán Coyne on guitar and vocals.
This young trad trio from County Clare blend Irish traditional melodies with and innovative rhythmic and melodic garnish. These socks are audibly palatable! As for the inevitable question of where the name originated? This is yet to be disclosed!
Having gained a fan-base from four years of gigging around the west of Ireland, this exciting group have recently started branching out and have been well received for their modern traditional style and energetic approach to music. This, combined with an acoustic musical interplay, three-part harmony and an obvious love for live performance, compliments the traditional essence of both tune and songs in a fresh and entertaining way. Their debut CD was launched at the Ennis Trad Festival in November and was received very well with an audience exceeding the capacity of the venue. The CD itself offers a dozen lovingly crafted tracks which the lads are eager to showcase both on the album and at their musically charged gigs.
Their Sound flows in magnetic, energetic waves, so does their banter on stage - Irish Music Magazine
They wrap traditional Irish tunes in modern garments and spice them up with driving grooves - Folkworld
---
Videos from this show

Sunday, September 7, 2014

Lloyd Barde Productions Presents:

Intimate Performance by Famous Singer-Songwriter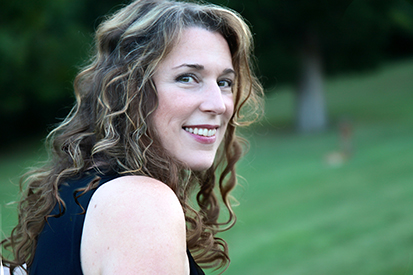 From writing hits for other artists to recording her own, twice Grammy-nominated songs, Beth Nielsen Chapman, Nashville based singer-songwriter has truly embraced musical diversity. A breast cancer survivor, environmental activist, teacher of workshops and lecturer on the magic of creativity, she's penned numerous hits and written songs for many top artists including Bonnie Raitt, Emmylou Harris, Bette Midler, Elton John, Neil Diamond, Trisha Yearwood, Martina McBride, Michael McDonald, Amy Grant, Keb Mo', Roberta Flack, Waylon Jennings, Faith Hill, Willie Nelson, Bette Lavette and many more. Her music has been heard on ER, Dawson's Creek, Providence, Felicity and in movie soundtracks, including The Prince of Egypt, Message In A Bottle, The Rookie, Calendar Girls, Where The Heart Is and Practical Magic. Mega-hit This Kiss, sung by Faith Hill, was ASCAP'S 1999 Song Of The Year, garnered a Grammy nomination and Nashville NAMMY'S 1999 Songwriter of the Year.
Among Beth's own recordings, the groundbreaking Sand & Water, released following the death of her husband from cancer in 1994, was performed by Elton John on his 1997 U.S. tour in place of Candle In The Wind to honor the memory of Princess Diana. Deeper Still was voted Album Of The Year by BBC2's Terry Wogan. Back To Love, released in 2010, spawned two hits on BBC Radio 2, and in 2012 Beth debuted, The Mighty Sky, a romping collection of songs about the wonders of astronomy that earned a 2014 Grammy nomination for Best Children's Album.
On Beth's new release, 2014's Uncovered, she rolls out a batch of songs covered by others, but never recorded herself. Most were Top 10 hits, seven of which topped the charts at #1. With This Kiss (Faith Hill), Here We Are (#1 for Alabama), Strong Enough To Bend (#1 for Tanya Tucker) and Nothin' I Can Do About It Now (#1 for Willie Nelson), the thread that runs through it all is a her great passion for the well written song. Beth has a whole lot of fun performing these songs, and has no trouble bringing them home and making them her own once again.
---
Videos from this show

Friday, August 22, 2014

Old Time Band on Tour from North Carolina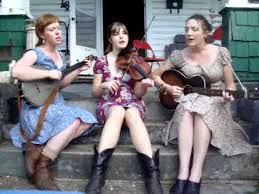 &nbsp &nbsp These wonderful musicians bring their respective experience in Old-Time, Bluegrass, and Pre-war Blues to both their original material and the traditional songs and tunes of the American Southeast. With a rotating instrumentation of fiddles, open-back and resonator banjos, acoustic and resonator guitars and upright bass, they set an emphasis on lively arrangements that showcase their vintage three-part vocal harmonies. Locust Honey features Chloe Edmonstone on fiddle, guitar, and vocals, Meredith Watson on guitar, slide guitar, and vocals, and for this show, Erin Inglish on banjo.
&nbsp &nbsp Chloe Edmonstone grew up in North Georgia and has been surrounded by Old Time music since she was born. She started playing fiddle when she was 13 years old and through the years developed her own style. She briefly went to Warren Wilson College, where she was a part of the Appalachian music program, and she participated in the Old Time/ Bluegrass program at East Tennessee State University as well. She founded Locust Honey in 2011 as a way to incorporate all of her current musical interests, including vocal harmonies, bluegrass and old country, original songs, and the Old Time fiddle tunes that started it all. When she is not adhering to the rigorous lifestyle of the Locust Honey road, she is teaching modern dance and fiddle lessons in Asheville, NC.
&nbsp &nbsp Meredith Watson was born in Boston, Massachusetts where, at the age of three, she began studying classical dance at the Boston Ballet School. She was featured in countless productions at the Wheelock Family Theater in Boston, and, as a teenager, she taught classes in acting,movement and choreography at the Harwich Junior Theater in Cape Cod, Massachusetts. She received her BFA in Acting and Music from the Tisch School of the Performing Arts at New York University. She has performed in, and played music for, many productions with the award-winning off-broadway theater company "Collaboration Town." In 2009, she was selected as a finalist in the Telluride Acoustic Blues competition at the Telluride Blues and Brews Festival. Meredith teaches fiddle at the Junior Appalachian Musician's program in Black Mountain, North Carolina.
&nbsp &nbsp Erin Inglish should be familar to our Stuido 55 audience from her October 2013 performance in the Banjo Babes show. Erin delivers a unique presentation of voice and banjo that is reminiscent of the sounds of John Hartford and the activist stylings of Peggy Seeger. Formerly a mechanical engineer in the field of sustainability, Erin now tours internationally as a folk music troubadour.
---
Video from this show

Friday, August 1, 2014

CD Release Concert for new album - Love, Hope & Tyranny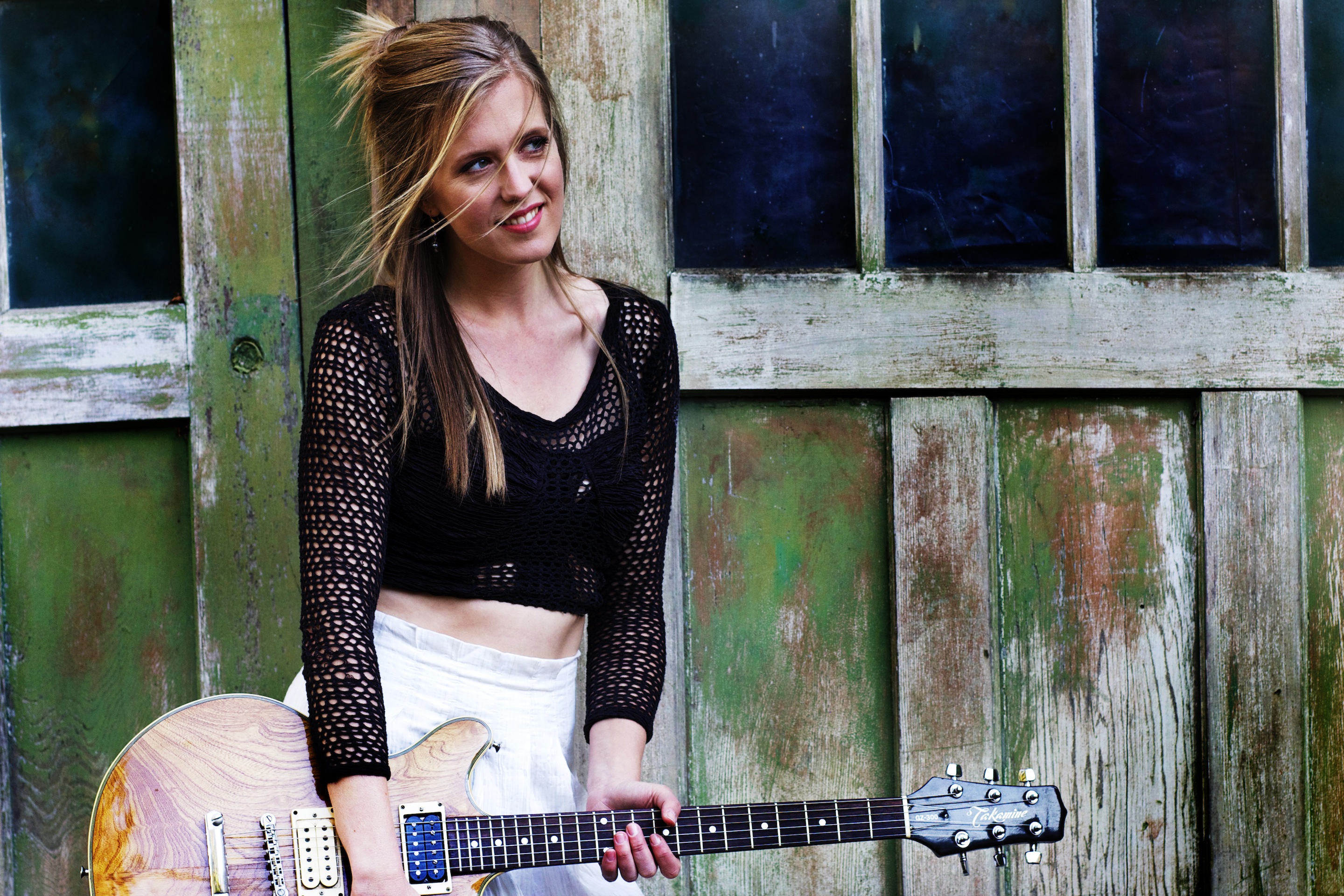 This concert will be the debut performance of Lucia Comnes' new body of work from her album Love, Hope & Tyranny. Join Lucia and members of her Rockin' Irish Band as they perform the 13 original songs in album sequence for the first time and celebrate the album's release. Band members include Burke Trieschmann (guitar, harmonica), Kyle O'Brien (mandolin) Mike Anderson (bass), Kyle Caprista (drums), with special guests Gawain Mathews (pedal steel & electric guitar) and Carolyn Brandy (percussion). A listeners concert, this is a rare opportunity to hear the songs live as they were recorded on the album - full of dynamics, storytelling and emotion. They will also play a few Rockin' Irish Band favorites and a some bonus songs that have not yet been recorded. The album will be hot off the press and available for sale at the concert for the first time.
Lucia Comnes is a singer, songwriter, fiddler & guitarist with a 'singular voice' (SF Chronicle) whose atmospheric-roots music crosses genres of Americana, folk, Celtic, rock, blues & alternative. Born in San Francisco and raised in Marin, she is known internationally for her ability to cross between musical styles, her sophisticated lyrics, her artistic music videos, her interpretations of traditional Irish music, and her background singing in more than 30 languages. She recently opened for Paul Brady, she has accompanied Joan Baez, Anna Halprin, and Liam O'Maonlai, and she used to be a vocalist with Kitka: Women's Vocal Ensemble.
---
| | | |
| --- | --- | --- |
| Patchy Sanders videos from this show | Friday, July 25, 2014 | Sound of Sirens videos from this show |
Patchy Sanders, a genuine family band, comprised of sisters Dani (banjo, harp) and Jacqui Aubert (vocals), their partners Ian Van Ornum (mandolin, bouzouki, guitar) and Dan Sherrill (guitar, banjo, mandolin), and good friends Sara Wilbur (violin, viola), Eric Jones (upright bass), and Alex Patterson (drums & percussion). While some find it easy to characterize their music, others hesitatingly distinguish their style as noir-grass, neo-folk, neo-Americana, or simply Alternative. Influenced by the broader folk revival of the last 70+ years, the band's three distinct songwriters draw upon diverse influences to bring forth a new, yet familiar sound.

Timeless. I could hear this band in the 16th, 18th, and 21st Centuries. - Sedge Thomson (West Coast Live, Host)

Great musicianship, harmonies, and feel. A really warm vibe that makes wherever you are standing feel like the center of a Gypsy Caravan. - Mason Jennings.

Studio 55 Marin proprietors Ken and Susan are bringing back their band Sound of Sirens for a short opening set, to showcase their new sound with their new guitar player, Jared Karol. Jared is a wonderful roots finger-picker, specializing in rags and blues, but great at all acoustic styles. &nbsp Ken Frankel has been part of the California music scene since the 1960's, performing with music notables such as Jerry Garcia, Richard Greene, and Robert Hunter. &nbsp Susan Nielsen ("Susan Siren") has shared stages with many national stars, sung in many local groups, and worked as a professional studio singer. &nbsp Kristina Ziese ("Stina Siren") sang in many popular bands in Seattle, but now has moved to the Bay Area to become one of our "Sirens". &nbsp Scott Underwood has performed with various Bay Area music acts since the 1980s, including as a member of Acoustic Son.
---
Videos from this show

Friday, July 18, 2014

Traditional Bluegrass by Some of the Most Respected Side Persons in the Business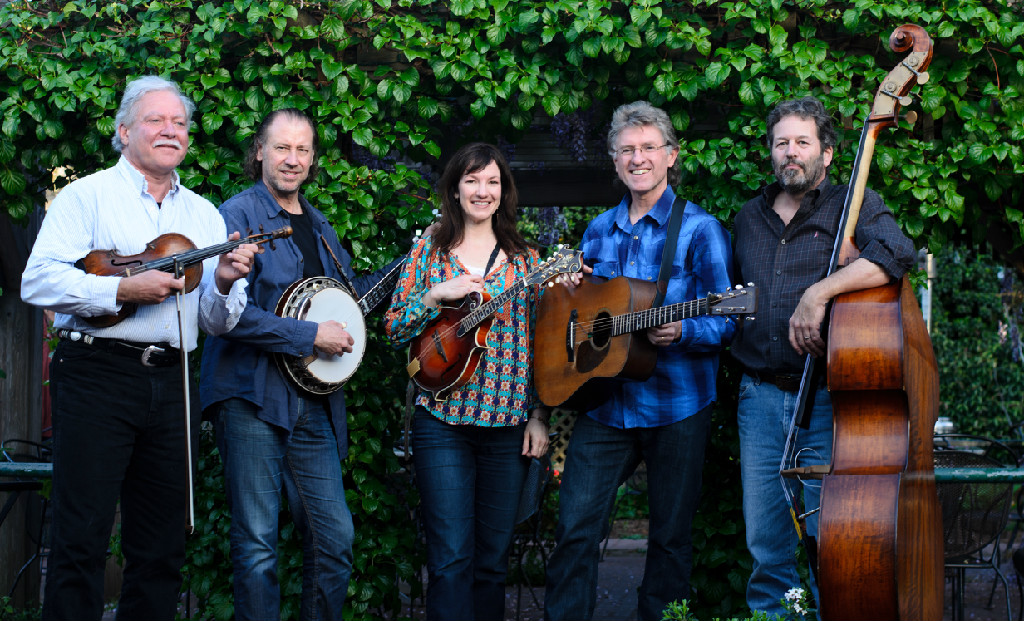 This band formed at a session in Point Reyes Station, where the San Andreas Fault meets the sea, thus "The Faultliners."
Sharon Gilchrist (mandolin and vocals) is steeped in traditional Appalachian music delivering these sounds with a distinct spacious, graceful and fiery nuance. Sharon has performed with Darol Anger, Peter Rowan and Tony Rice Quartet, Laurie Lewis and the Right Hands, Uncle Earl, Ger Mandolin Orchestra directed by Mike Marshall, Scott Law, Kathy Kallick Band, Bill Evans, and Donald Rubinstein.
Paul Knight (bass and vocals) is a Grammy nominated bassist with over 20 years of touring and recording with notable bluegrass & Americana artists including Peter Rowan, Jim Lauderdale, Scott Law, Jody Stecher, Kleptograss, Perfect Strangers, David Grisman, Laurie Lewis, Kathy Kallick, and many others.
Jim Nunnally (guitar and vocals) is a member of the David Grisman Bluegrass Experience and John Reischman's Jaybirds. He has been awarded two Grammy certifications, two IBMA awards and is a two time Western Open Flatpicking Champion. Jim has released two instructional DVDs. The Art Of Rhythm Guitar: Strums, and his latest DVD, Walks and Runs, are based on over 25 years of experience teaching at music camps.
Avram Siegel (banjo and vocals) is a greatly respected musician and teacher whose work with pioneering California bluegrass bands Grant Street String Band, Vern Williams, Fog City Ramblers, Kathy Kallick, and True Blue, has influenced countless musicians.
Blaine Sprouse (fiddle and vocals). If You're Gonna Play In Texas (You Gotta Have a Fiddle in the Band) proclaims Alabama's hit song. So who did the supergroup call upon to fiddle that memorable chart topper? Blaine Sprouse. Called one of the great fiddlers of our time by bluegrass legend Bobby Osborne, he learned by playing with the masters: Kenny Baker, The Osborne Brothers, and Jimmy Martin, to name a few.
---
Videos from this show

Friday, July 11, 2014

Eclectic Americana from the Heart of America's Third Coast!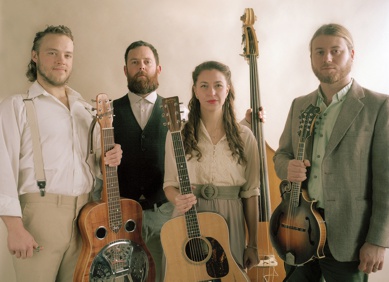 Lindsay Lou & the Flatbellys have a fresh approach to American roots genres, which they weave in and out seamlessly from song to song with the throwback sound of bluegrass instruments and the striking delivery of blues vocals. They're now touring in support of a new short release, the Here Between EP, which serves as a snapshot of their unique and ever evolving sound. With roots in the Great Lakes State of Michigan, Lindsay and the band have been traversing the country with instruments in tow since the release of their 2012 record, Release Your Shrouds. The album showcased the band's musical ingenuity, Lindsay's vocal prowess and their collective aptitude for cultivating prolific original material. In short, Lindsay Lou Rilko, Joshua Rilko, Mark Lavengood and PJ George are a heavy picking, powerful harmony singing, tight knit family fashion conglomeration of new-fangled roots music.
Lindsay Lou and the Flatbellys are a fresh new voice in modern bluegrass, with driving instrumentals and a straight-from-the-still quality to Lindsay's voice... If you're a fan of broad-based bluegrass with a strong infusion of creativity and intelligence, Lindsay Lou and the Flatbellys is a band you definitely need to check out. Bluegrass Unlimited
If you are looking for ancient and soulful tones with a modern rootsy twist, that is exactly what you'll find when listening to Lindsay Lou & the Flatbellys. Each song is unique, entertaining, and flows easily into the listener's ears. Lindsay and the boys will surely win your heart! - Caroline Colie , Acoustic Trail.
---
Videos from this show

Sunday, June 22, 2014

Solo Electric Cello with Live Looping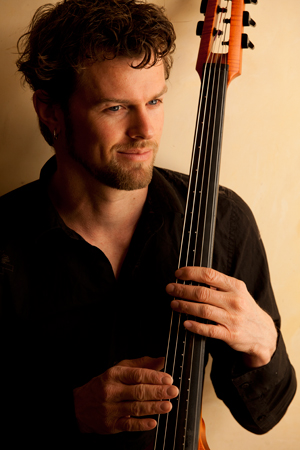 &nbsp &nbsp Matthew Schoening is an artist, performer, and visionary. What Matthew loves most in life is holding safe space for others, whether it's through his music, consulting, entertaining, or simply serving some of the many Chinese teas he has acquired and shared with people all over the world.
&nbsp &nbsp For this particular project, "Solo Electric Cello", Matthew plays his electric cello through a complex process of live looping. The looping is used as a compositional tool, as opposed to backing tracks to jam on, although there is space for improvisation. His music showcases compositional complexity with variety, dynamics, grooves and movement, while being very pleasing to the ear and soul. Most people forget that looping is involved, due to how it is utilized. Often times it sounds as if there is an entire symphony, and a full band on stage with him.
&nbsp &nbsp Many people are moved by Matthew's music. Common adjectives used to describe how people feel after hearing his music include "Opened", "Beautifully Vulnerable", "Inspired", and "Mesmerized". Many people listen to his music while participating in their spiritual practice, meditating, driving, writing, painting, creating, doing yoga, giving or receiving body work, and many other things.
Matthew has two rules for this particular project, "Solo Electric Cello":
1) Whatever music he composes has to be able to be performed live, with no pre-recorded sounds. This means that what you hear on his albums is what you hear live. He starts with nothing, and builds everything, live, in front of you. Every performance is unique, and has it's own flavor.
2) All of the sounds have to come from his electric cello. This includes all of the bass, percussion, and ambient sounds, which Matthew achieves through bowing, strumming, percussive, and pizzicato techniques, in combination with a unique proficiency with his effects pedals.
---
Comedy Show

Saturday, June 21, 2014

Will Durst
BoomeRaging: From LSD to OMG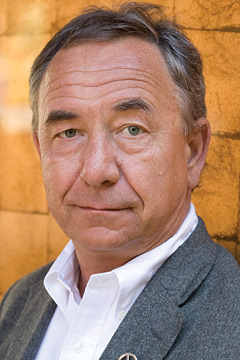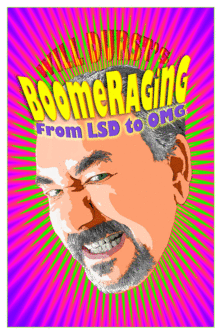 &nbsp &nbsp &nbsp The man the Oregonian called "the thinking man's comic," Will Durst, is proud to announce his first one- man show since the acclaimed "Elect to Laugh," ran for 41 weeks in San Francisco in 2012. "BoomeRaging: From LSD to OMG", is an uproarious tribute to the joys, achievements, frustrations, and looming doom of the Baby Boom Generation. In this rollicking 85 minute heartfelt monologue, Durst encourages his chronologically gifted brethren to refuse to grow old in the face of gravity no matter how many times they forget their online banking security question. Does anyone really have a favorite non- cruciferous vegetable? It's a celebration of the maturation of the Boomer Nation culminating in an extra, added special treat- the Meaning of Life.
&nbsp &nbsp &nbsp Ably assisted by his genial wit and trusty overhead projector, Durst explores the Boomer revolutions, evolutions and still vibrant role in today's youth obsessed society (which we invented, for crum's sake). He shamelessly strokes the egos and pats the hands of the Love Generation through segments entitled Racing From The Shadow Of A Mushroom Cloud. The Blinking VCR. Still Doing Drugs, Only Now There's a Co- Pay. The Brightsides of Extreme Adulthood & Hope I Die Before I Ooops, Too Late. It's funny. It's smart. And uplifting, even.
&nbsp &nbsp &nbsp Special Note: Due to the graphic nature and startlingly archaic technology, children under the age of 40 will not be admitted unless accompanied by a guardian or if they bring a note. We apologize for any inconvenience.
&nbsp &nbsp &nbsp Acknowledged by peers and press alike as one of the premier political satirists in the country, Will Durst has patched together an incomparable comedy quilt of a career, weaving together columns, books, radio and television commentaries, acting, voice-overs and stand- up into a riotous patchwork of outraged and outrageous common sense. The New York Times calls him, "quite possibly the best political comedian working in the country today." He's the author of 3 books, told jokes in 14 countries and racked up 800+ television appearances.
---
Manring, Kassin, & John R. videos from this show

Ultra-Body Over the Mountain
and with OoN joining them: Mistral

Saturday, June 7, 2014

Bass Spectacular featuring bands with Michael Manring & Ariane Cap

OoN video from this show
Separately, Michael Manring, Larry Kassin, and John R. Burr have extensive, multi-faceted careers as musicians. Together they play provocative, complex compositions - music that tears down stylistic walls and refuses to be compartmentalized - echoes of jazz, rock, folk, avant-garde, and world music - something completely new: extemporaneous-jazz-chamber-fusion-music for the new century.
Michael Manring (bass), known for his innovative approach to the bass and adventurous solo concerts, has appeared on approximately 200 recordings, and toured throughout the Americas, Europe, and Asia. He has received Grammy and Bammie nominations, the Berklee School of Music Distinguished Alumni Award, two Gold Records, and the Bassist of the Year award from the readers of Bass Player magazine.
Larry Kassin (flute) founded the internationally recognized Noe Valley Music Series in 1981. His wide-ranging performance style has led to appearances with Bobby McFerrin, Jessica Williams, SF Klezmer Experience, Rhiannon, Sonia, and Box Set, plus two CD release with Doors keyboardist Ray Manzerek and Beat poet Michael McClure. Manzarek and McClure are brilliantly abetted by Larry Kassin throughout the album." -Kevin Ring, Beat Scene
John R. Burr (piano). After years of touring with such artists as Maria Muldaur, The Alison Brown Quartet, Paul McCandless, Michael Manring, and Kathy Kallick and recognition including a feature spot on Windham Hill's Piano Sampler II, Burr has stepped out with his first solo album, Piedmont Avenue. John R. Burr is that rare pianist who combines jazz technique with a genuine love for folk music. The Philadelphia Weekly said, "Pianist extraordinaire John R. Burr has the most sparkling style since former Allman Brother-turned-Rolling Stone hired hand Chuck Leavell."

OoN
The bassoon & bass duo of Paul Hanson and Ariane Cap

People often say they don't know what to expect from a bass and bassoon duo. Well, think melodic and groovy music. OoN with its unlikely combination of bass and bassoon creates beautiful melodic Chamber Jazz. Sometimes peaceful and meditative, at other times passionate, raging or groovy, the musical bandwidth these two instrumentalists cover is surprising. Utilizing virtuosic and unusual playing techniques as well as effects and harmonizers, the musicians put the song first and musicality front and center.
Ariane Cap is an Austrian multi instrumentalist, composer and music educator. Ariane is a bassist (upright, electric, fretless, mini bass), pianist, vocalist and flutist. She has turned out compositions for Karney Music and Sound, Somatone and Wolftrack audio, regularly teaches at the Berkeley Jazz School, The Wyoming Rock Camp Experience, the Berkeley Jazz Workshop and her own Music School, Step Up Music. Performing credits include the Celtic Rock Band Tempest, The Kid-punk rock band The Sippy Cups, the African Band The Palmwine Boys, the Guitar Virtuoso Muriel Anderson, the Austrian funk band The Mozart Band, Cirque du Soleil, and many others.
Paul Hanson, as a bassoonist over the last 20 years, has been one of a select few setting new standards for what is possible on this most classical of woodwind instruments. From his roots as an award-winning classical bassoonist and jazz saxophonist, Paul is known for his diverse career with artists such as Bela Fleck and the Flecktones, Wayne Shorter, Cirque Du Soleil, David Binney, DAVKA, St Josephs Ballet, Zenith Patrol, Bob Weir's RATDOG, The Klezmorim, Paul Dresher Ensemble, Jonas Hellborg, Dennis Chambers, Eddie Money (sax soloist on "Take Me Home Tonight"), Bobby Blue Bland, and Boz Scaggs.
---
Videos from this show coming soon

Sunday, June 1, 2014

A special afternoon of Irish and original music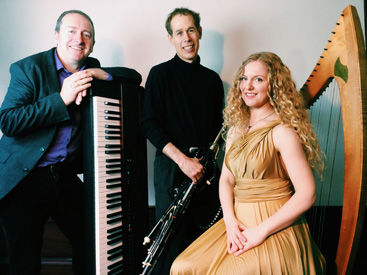 Uilleann piper Todd Denman will perform with Trinity, featuring Diana Rowan on Celtic harps, Eamonn Flynn keyboards, and guests, playing a variety of material from early medieval to traditional Irish music. Joining them, special guest John Ward on guitar, and more, making a packed stage of unique evocative and driving music. This will be his first appearance at Studio 55.
Todd Denman is an award-winning uilleann piper, an NEA grant recipient, and a CA Arts Council Touring Artist. He rarely performs in the Bay Area. Todd has been performing the uilleann pipes since 1982 and is recognized as an American master of the instrument. He has toured world-wide and recorded for Disney and performed with the San Francisco Symphony.
Diana Rowan, Celtic harpist, is currently performing worldwide and recording both as a solo artist and collaborator. Her playing and compositions have "unusual power and beauty." Her latest album "As Above, So Below" reflects recent travels in Asia and PhD research into the unusual harps of Ethiopia and Persia - the original harps. Combining both virtuosic technique from classical training and soulfulness from immersion in folk traditions, Diana explores the borders of the harp's voice.
Eamonn Flynn was born in Dublin, Ireland, and was the keyboardist on the 12 million selling movie soundtrack The Commitments. He has gone on to record and tour worldwide with, among others, Michael Franti and Spearhead, Evelyn 'Champagne' King, Elvin Bishop, Pee Wee Ellis, Donald Harrison, Michelle Shocked, Maria Muldaur, The Black Brothers, Tony Lindsay (Santana), and a 10 year stint with legendary Meters drummer Zigaboo Modeliste.
---
Videos from this show

Saturday, May 31, 2014

3 women, 2 men, 2 fiddles, cello, bass, mandolin, & three part harmonies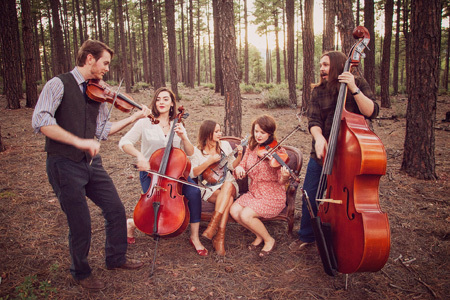 The unique sound of Run Boy Run is rooted in the traditional music of the Appalachian South. In recent years, bands like Nickel Creek, Crooked Still, and others have revived a sense of innovation in traditional American music. Run Boy Run continues this journey into music that is dynamic, orchestral, and overflowing with beauty. Three strong female voices weave a spectacular tapestry of sound. Award-winning fiddle cuts a path for a tightly formed rhythmic front. Every arrangement is - at it's core - beautiful.
From winning the band contest at Pickin' in the Pines to playing on stage at the Telluride Bluegrass Festival as band contest winners in 2012, to making a second appearance on A Prairie Home Companion in St. Paul in 2013, Run Boy Run is spreading this special brand of music to all who would hear. With the release of the full length album So Sang the Whippoorwill in March of 2013, Run Boy Run is making more people dance, cry, and sing than ever. A Prairie Home Companion host Garrison Keillor was impressed enough that he penned the liner notes to this CD.
Brother and sister, Matt (fiddle, guitar) and Grace Rolland (cello, vocals), have fiddle music running through their blood. Raised with bow and rosin on every bedside table, Run Boy Run was a natural fit. Sisters, Bekah (fiddle, vocals, guitar) and Jen Sandoval (mandolin, vocals), grew up deeply rooted in the Bluegrass festivals of Arizona, so they too found a home in Run Boy Run. Jesse Allen (bass) was brought up on opera and western swing, and grew to love the natural fusion inherent in American music. The whole truly exceeds the sum of the parts as touches of classical, jazz, and folk express themselves through the old-time core of Run Boy Run's unique sound.
When I hear Run Boy Run, it all comes back to me, why I started doing that show back then. I hope they go on forever. - Garrison Keillor, A Prairie Home Companion
---
Suzzy Roche is best known for her work with the female vocal group The Roches, alongside sisters Maggie and Terre. They are extremely well known in folk music circles from their many recordings and performances, including appearances on Saturday Night Live, The Tonight Show with Johnny Carson, and various movie and TV soundtracks. Suzzy has also had individual success as a songwriter, recording artist, actress, and performer.

Lucy Wainwright Roche is the daughter of Suzzy and Loudon Wainwright III. She is an excellent musician and songwriter on her own, has released several albums, and tours regularly presented her music. In early 2009, Lucy's song "Snare Drum" won the 8th Annual Independent Music Awards for Best Folk/Singer-Songwriter Song. In 2008, Lucy was one of the winners of the Falcon Ridge Folk Festival's "Emerging Artist" competition. Again in 2009, she was one of six winners of the Grassy Hill Kerrville Folk Festival's "New Folk Singer/Songwriter Competition".

Since 2001, Nate Borofsky has toured the world with the Independent Music Award-winning folk-pop quartet Girlyman. Prior to that, he was a Boston Music Award-winning singer-songwriter. His wonderful songs and singing have been a major part of the success of Girlyman. Now you can see him in this intimate venue in a rare solo performance.



---
Videos from this show featuring Dulcie Taylor

Saturday, April 26, 2014

Award Winning Singer-Songwriters: Best of the East and West

Videos from this show featuring Steve Key
| | | |
| --- | --- | --- |
| DULCIE TAYLOR is a veteran performer from the East Coast. She has shared the stage with an impressive list of artists, including Bonnie Raitt, Jerry Lee Lewis, John Gorka, Asleep at the Wheel and Kathy Mattea; and has performed at The Kennedy Center (Washington, DC), Kerrville Folk Festival Mainstage, The Bluebird (Nashville) and many others. Dulcie is an award winning songwriter, most recently 1st Place Best Songwriter at the 2013 New Times Music Awards for her song "Cigarette Smoke". She has released three all-original CDs. The latest, Free of this Sorrow (2012), reached No. 1 at Amazon for Top-Rated Americana. | STEVE KEY is an award-winning songwriter, performer and recording artist, best known as the writer of "33, 45, 78 (Record Time)" recorded by country music star Kathy Mattea. Originally from the Bay Area, Steve spent many years in New York writing and touring, and a five year stint in Nashville as a Music Row writer. He has played the Philadelphia Folk Festival, Canadian folk festivals at Winnipeg and Owen Sound, three times on the main stage of the Kerrville Folk Festival in Texas and countless others. He has opened shows for Richard Thompson, Cheryl Wheeler, Ellis Paul, Livingston Taylor, James McMurtry, Taj Mahal, Rory Block, Bill Staines and Tom Paxton just to name a few. | JOHN ROY ZAT has been making music in the Bay Area since 1970, and has played with many fine local musicians over the years including Kate Wolf, Nina Gerber, Queen Ida, Bill Kirchen, and John McVee. Kate Wolf recorded his words to the old time waltz "Midnight On The Water" for her second album with him playing the fiddle; and the song has since been covered by Banish Misfortune, Caroline Herring and others. John has released two CDs of mostly original material, "Solo" and "Collaborations". Both have gotten consistent airplay on independent radio and have charted in the top ten on Roots Music Report and Airplay Direct. |
---
Videos from this show

Tuesday, April 8, 2014

Famous Alt-Folk Group from Washington, DC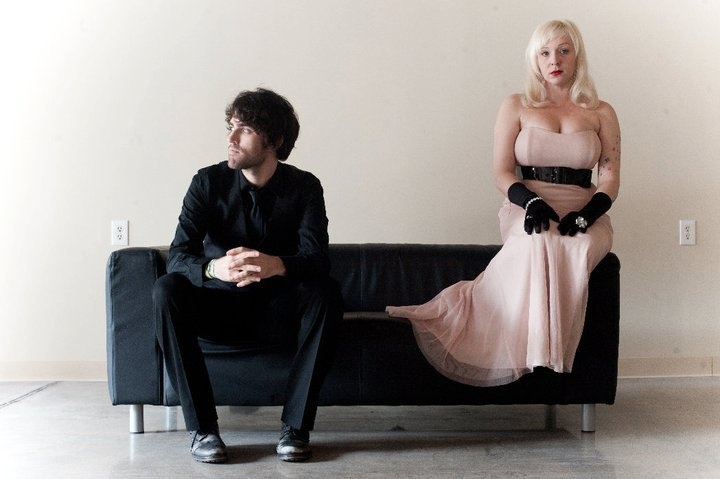 VANDAVEER is the song-singing, record-making, globetrotting project penned and put forth by folk-pop tunesmith Mark Charles Heidinger. Borned in cloudy Ohio, raised in Kentucky, and currently camped out in the nation's capital, Vandaveer offers up melodic Americana that is both haunting and easy, forlorn and welcoming, with stories as universal as the songs they inhabit. Vandaveer shapeshifts from stage to studio and back with a host of revolving characters, most prominent among them Rose Guerin, offering up the loveliest harmonies heard this side of Eden.
Heidinger sings as if the moods and assortments on his inside are in the midst of a spring cleaning - that soothing pitching and renewal that seems to leap out of people when the winter weather breaks for good. - Daytrotter, April 02, 2009.
The Vandaveer name carries with it far more of Dylan's spirit than other contributors to the genre... he's telling stories, some of which betray a cautious optimism, but most of which find dark places to hide, with very little in the way of happy endings... This is a singer who can tell a pitch-black story in a way that makes it sound more like unfortunate happenstance than world-moving tragedy, as an observer rather than an interpreter. - Pop Matters, May 31, 2007
---
Videos from this show

Sunday, April 6, 2014

Ancient Soulful Music of the Near East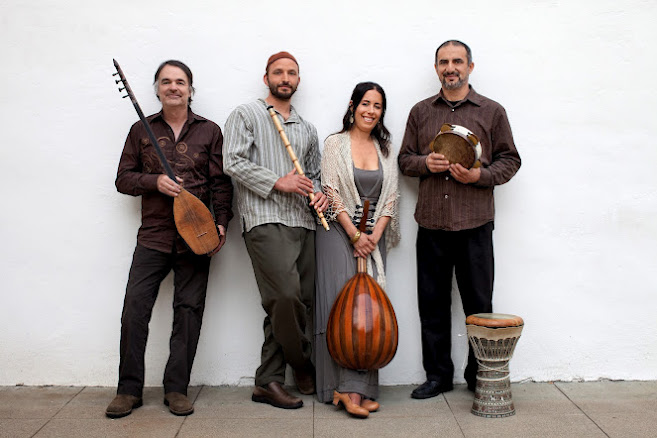 Acclaimed for their passionate performances, The Qadim Ensemble is comprised of accomplished and acclaimed musicians. The San Francisco based band has attracted a growing global audience who are responding to their authentic musicianship and timely message.
Qadim is a word found in both Arabic and Hebrew meaning 'ancient' as well as 'that which will come.' Their repertoire includes Arabic, Jewish, Turkish Sufi, Hebrew-Yemenite, Armenian, Ladino and Moroccan music, celebrating the common musical and spiritual heritage of the region's cultures, while honoring the great diversity found within them.
Their most recent CD, Eastern Wind, received raving reviews world wide, reaching #7 on Billboard's World Music charts! Led by Eliyahu Sills on the ney, the Qadim Ensemble consists of Rachel Valfer Sills on oud and lead vocals, Faisal Zedan on Arabic percussion such as the darbukkah, riqq & daf, and Geri Hegedus on Turkish baglama saz, divan saz, persian setar, and oud.
"Beautifully presented, the players bring superb musicianship and palpable enthusiasm to each performance. Eliyahu's ney flute along with Rachel's succulent vocals are stars . . . creating a sense of human communication with the divine." -All Things Considered, NPR.
---
Videos from this show

Sunday, March 30, 2014

Traditional Irish Band On Tour From Ireland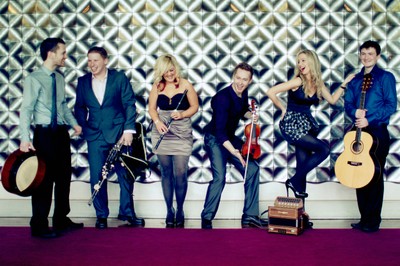 All accomplished young musicians in their own right, FullSet create a stunning and unique sound that is full of energy and innovation, while remaining true to their traditional roots. In recent years this young group has received much critical acclaim, Following the tremendous success of their debut album Notes At Liberty, FullSet are quickly becoming one of the most well known bands in the Irish music scene today. In October 2011 they were honored by being announced as the winners of the RTE/RAAP Breakthrough Annual Music Bursary Award. Having been shortlisted along with 12 other groups in 4 different categories ahead of a field of almost 800 other groups and artists. As well as this, in 2012 FullSet were honoured to receive Best New Group Award from the well respected Irish American News as well as Best New Comer in Bill Margeson's Live Ireland Awards.
Michael Harrison, on fiddle, creates a distinctive sound using original and colourful techniques. Martino Vacca is an exceptional uilleann piper and employs his mastery of this instrument in all pieces arranged by FullSet. Talented musician, Janine Redmond, on button accordion maintains a rich traditional style that is becoming ever so rare in traditional music today. Eamonn Moloney on bodhran and Andy Meaney on guitar, effortlessly blend the music together with a sensitive yet driving accompaniment section. The emotive singing style of Teresa Horgan completes the ensemble and is guaranteed to captivate audiences of every generation.
FullSet has performed on some of Ireland's most prestigious TV programs. They have performed at festivals and venues across America and Europe, and have shared the stage with some of the biggest names in folk and world music. They have just released their second album Notes after Dark.
---
Videos from this show

Sunday, March 16, 2014

World's First Celtic All-Star Grateful Dead Jam Band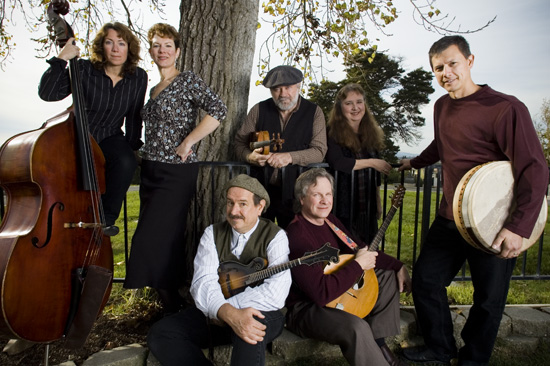 Wake The Dead is the World's First Celtic All-Star Grateful Dead Jam Band. After 11 years of solid success blending Celtic traditional music and the songs of the Grateful Dead, this hot Northern California septet now embraces the entire Summer of Love, delighting Deadheads, folkies, rockers, and adventurous music lovers alike around the world.
As an expression of cultural joy, you can't top an Irish wake. And what is a wake but a celebration - a toast of appreciation - an expression of love - and a damn good party. So when eight top Bay Area musicians realized they shared as deep a love for the songs of the Grateful Dead as they did for traditional Celtic tunes, some brand-new music sprang up and started the partying.
Wake the Dead is a romp that flows seamlessly from rock grooves to hot Irish reels, and from haunting airs to achingly beautiful melodies familiar to Deadheads everywhere. Sugaree in waltz time, bracketed by an ancient harp tune and infused with a poignant Celtic longing. Bertha thundering out of China Cat on a mandolin tidal wave. The eerie lilt of the uilleann pipes, giving a glow to Bird Song as if it was always meant to be there. Groove jams to keep the tie-dye swirling. Vocal harmonies that float like clouds.
The music takes off, and the band follows, grinning all the way. These aren't worlds colliding - they're worlds meshing, coalescing - creating a whole new world of possibility, and true to the spirits of the Grateful Dead and the eternally hopeful Celts.
---
Videos from this show

Rain and Follow the Call

Sunday, March 9, 2014

Bodhi's Annual Birthday Concert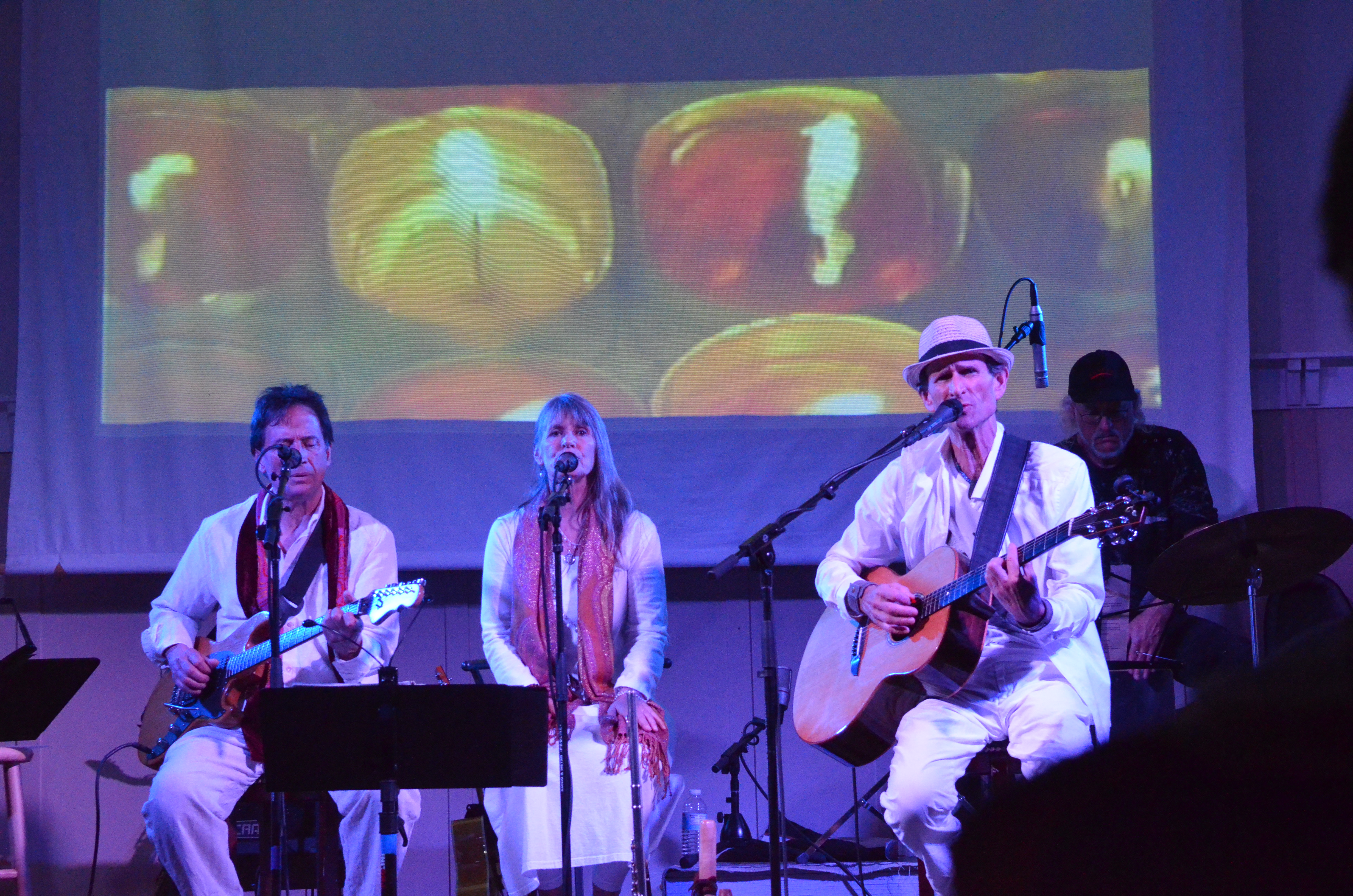 Accomplished instrumentalists and vocalists, Stephen Meese and Bodhi Setchko have been playing together on and off for 20 years. Setchko garnered recording deals and critically-acclaimed albums both as a singer-songwriter in the 70's and later as an influential force in the new age/ambient music movement (with Higher Octave recording band CRYSTAL WIND) leading up to his 2006 #1 Hit TRANS UKRAINE on the International ambient charts.
Stephen Meese made a splash from the East Coast to Hawaii, opening for acts like Elton John, The Go-Gos, and Toots & the Maytals. He too has a strong affinity for ambient music as a member of notable Marin-based purveyors of "Music to Feel," Harmonic Healers.
With the addition of Barbara Juniper on a 3rd part harmony, the sound expands exponentially! Barbara is an accomplished vocalist and Sound Healer. She sings with Pollyanna Bush's Glee Singers and contributes her vocal magic to many recording projects.
Positive messages are at the heart of the music of Setchko, Meese and Juniper."Our purpose is for people to have a deep feeling of hope and well-being when they hear or sing along with our music. We want them to say 'I like what I'm saying to myself'. We have seen our audiences transformed through what they create in their imaginations in response to the music. People tell us tell us they leave a concert feeling revitalized and renewed."
---
Videos from this show

Sunday, February 9, 2014

North Carolina Bluegrass Band on Tour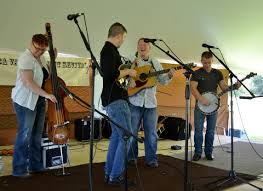 Daniel and Carolyn Routh, along with Kendall Gales and Levi Austin make up Nu-Blu - a band that projects a dynamic edge while still staying grounded in the traditions and fundamentals of bluegrass music. They have worked hard to develop a sound that gives the listener a diverse experience, while remaining within the realms of bluegrass. By mixing original and traditional material along with incorporating songs from other genres, Nu-Blu has created a unique and driving blend of music that keeps audiences coming back for more. They are a dedicated team that work together to reach their common goal of presenting great music every show.
Celebrating their 10th year as a band, Nu-Blu has issued their newest release Ten. Nu-Blu has developed a strong following while establishing their reputation as a progressive bluegrass band. While firmly versed in the traditions of bluegrass and gospel, they also bring other musical styles into their fresh, contemporary sound. This is a hard working band, their road schedule is relentless, playing many out of the way venues and bringing new audiences to bluegrass.
This was a wonderful show. Everyone agreed it was one of the best bands ever to play at Studio 55. And, they had the most impressive tour bus we'd ever seen.
---
Amanda West and Leah Ray Mendez videos from this show

Saturday, February 8, 2014

The Valentine Songologues

An Evening of Stories and Songs by Women

Mindy Dillard and Gail Dreifus videos from this show
| | | | |
| --- | --- | --- | --- |
| An elegant union of inquisitive mind, open heart and old soul enable singer-songwriter Amanda West to weave powerful songs with a disarming stage presence. West's all original songs explore topics from humanity's impact on the planet, to musings on women's role in society, intimate stories of love, and recipes for self empowerment and cultural evolution. | A lifelong musician and dancer, Leah Ray Mendez has been writing and performing original music professionally since her studies of World Music and Dance at the University of California, Santa Cruz, where she was trained in traditional western music theory as well as folk traditions found in diverse regions such as Indonesia, West Africa, and India. | Mindy Dillard wrestles hard-won truths from the jaws of difficult situations and presents them with electric energy and a crystal-clear voice. Mindy started her performance journey as an actor, before becoming a musician and singer-songwriter. Her latest project is a solo show, "How to Survive a Poison Apple," | Gail's music is uniquely personal, reflecting her interests in feminism, history and contemporary romance. Her style embodies mystery, honesty and heart. Through her lyrics, she connects archetypal and present day themes. Gail also writes about nature and history. Inspired by living in Yosemite National Park, she developed a program of original songs about the park which has been performed for over 25 years for children and their guardians. |
---
Videos from this show

Saturday, January 18, 2014

Unique Sister Vocal Trio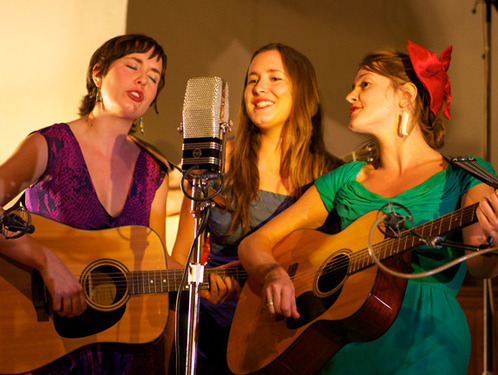 The T Sisters are Erika Tietjen, and the twins Chloe and Rachel Tietjen, a genuine sister singing group from the East Bay. Their unique yet classic sound invites a range of likenesses: from soulful 60's girl groups to the Andrews Sisters.
Erika, the eldest sister, weaves a story with attitude and will belt it out with the confidence and style of a jazz diva. Rachel's soulful and raw style is highlighted in her vintage blues-inspired tunes. Chloe sings her heartfelt and often poetic lyrics in a subtle country vibrato. The combination results in a very eclectic repertoire unified by a landscape of close harmonies.
The T Sisters have played venues on both coasts of the United States from Freight and Salvage to the legendary Bitter End in Manhattan's West Village. I heard them on the radio on West Coast Live, and was so impressed I immediately contacted them to play at Studio 55 Marin. I think they will soon be famous, so this show will be a rare chance to see them in an intimate setting.
This show had the most paying customers of any show so far at Studio 55 Marin. The T Sisters were just as amazing as expected.
---
Videos from this show

Sunday, January 12, 2014

Famous Bluegrass Band on Tour - Sunday Afternoon Show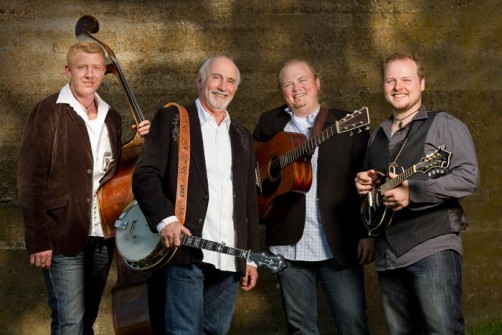 The Special Consensus is another amazing booking for Studio 55 Marin. Their 2012 album Scratch Gravel Road was nominated for the Best Bluegrass Album GRAMMY Award. They have been touring nationally and internationally since 1979,
In 1984, The Special Consensus initiated the Traditional American Music (TAM) Program in schools across the country and began appearing on cable television and National Public Radio shows. The band has since appeared on The Nashville Network Fire On The Mountain show and released fifteen additional recordings.
The Special Consensus has been featured in cover stories of the renowned bluegrass publication Bluegrass Unlimited in 1998, 2005 and 2010 and several of the band recordings have received Highlight Reviews and appeared on the National Bluegrass Survey chart in that publication. In November 2003, The Special Consensus received a standing ovation after the first band performance on the Grand Ole Opry at Nashville's historic Ryman Auditorium. International tours have brought The Special Consensus to the United Kingdom, Canada, Europe, Ireland and South America.
Band leader/banjo player Greg Cahill is the former President/Board Chair of the Nashville-based International Bluegrass Music Association (IBMA) and the Nashville-based Foundation for Bluegrass Music. He was awarded the prestigious IBMA Distinguished Achievement Award in 2011. Other band members include mandolin player Rick Faris of Topeka, KS, guitarist Dustin Benson and bass player Dan Eubanks, both of whom reside in Nashville.
---
Videos from this show

Saturday, January 11, 2014

Unique Vocal Harmonies and Evocative Lyrics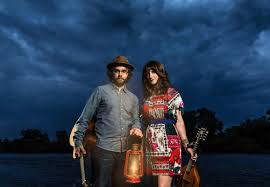 Crafting songs rich in meaning and texture, Misner & Smith's sound is anchored by their unique vocal harmonies and evocative lyrics. They tour extensively, both at home and abroad, and in 2007, their song Madeline (Paradise Cracked) won the West Coast Songwriters Associatio' Song of the Year. Their new album, Seven Hour Storm, hits the streets on October 15th 2013.
It was an entirely different art form that brought these two together in the first place. Having separately studied and worked for years as actors in theaters around the country, it was during several weeks of rehearsals, and an extended run of the play Woody Guthrie's American Song, that Sam and Megan discovered a mutual love of roots music, and in particular, harmony singing. With intricate, often 5-part vocal arrangements of Guthrie's songs as the backbone of the show, the special blend that Misner & Smith have become known for became evident right away. Since then, the two have acted in the play over a hundred times around the country, including runs at venues such as Marin Theatre Company, The Freight & Salvage Coffeehouse, The Colorado Shakespeare Festival, among others.
Balancing their lives as musicians and actors is no easy task - often more like a juggling act. Yet storytelling is at the heart of both, and may well be the common thread running through all art. Inspired by both music and theater, their influences contain equal parts playwrights, songwriters, actors, and musicians.
---
If you have any questions, email us: Studio 55 Marin
For booking information, email Ken Frankel
Or telephone us at (415) 453-3161