&nbsp &nbsp &nbsp &nbsp Studio 55 Marin
Premier Live Music Listening Room
1455 East Francisco Blvd., San Rafael, California
Drive To

For Live Music

Performance Hall
& Music School

Live shows presented by

a registered 501c3 non-profit

Traditional Music
Instruction
---
UPCOMING SHOWS
If you can't play the videos on this page, you probably just need to upgrade your web browser
---
Broadcasting from Studio 55 Marin

Next Two Saturdays: September 5th and 12th - 10 am - $15 advance/ $20 at door

Fascinating Interviews and Ear-opening Music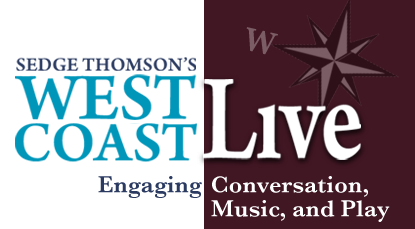 Spend your Saturday morning in the company of West Coast Live - a fully live national 2-hour radio variety show hosted every weekend by Sedge Thomson and featuring author interviews, music, and comedy.
Imagine the pleasure of watching a radio show come-to-life before your eyes. Immerse yourself in the company of world-renowned authors and musicians for live performance and spontaneous interviews in the intimate setting of our venue. Live from Studio 55, Sedge welcomes:
September 5th features Amy Stewart (bestselling author of The Drunken Botanist, here with her debut novel "Girl Waits with Gun"), the outstanding music of Dirty Cello and more!
September 12th we're joined by The New York Times Pulitzer Prize-winning reporter John Markoff (with his new book "Machines of Loving Grace") and Jane McGonigal ("Superbetter") and more!
These shows may sell out... get your tickets NOW!
---
Coming Back to Our Venue

Saturday, September 19 - 8 pm - $15 advance / $20 at door

The American Sarodist and Composer



Live video of Lisa Sangita Moskow
Innovative composer and world music songcrafter Sangita Moskow will bring her musical explorations to Studio 55. Her resonant instrumental techniques on electric sarod and her expressive vocals will combine with the magic of Paul Eastburn's bass, violin and mandolin to create an enchanting and hypnotic landscape. Sangita's thematic material draws on traditions from Marin County to India to Europe to Brazil and more.
Sangita has gained international recognition for her work with the sarod, a 25-stringed lute from North India which she has modified into a 14-stringed instrument that lends itself to vocal accompaniment. She has spent the last 40 years creating original compositions and unusual ensembles for this instrument, and has performed extensively throughout Europe, Mexico, and the US West Coast. Sangita uses non-traditional tunings and techniques that draw heavily from the scales, rhythms, and structures of North Indian classical music, but also from the musics of Indonesia, Japan, the Middle East and the British Isles.
Sangita has received more than 10 awards for musical composition from the ASCAP Foundation and has been the recipient of several Subito grants from the American Composers Forum. Her collaboration with soundscape artist Robert Rich resulted in the "Yearning" Cd which was voted one of the top Cds for meditation and yoga in the 20th century by the Yoga Journal. She toured Europe and Mexico for over 10 years with Swiss clarinetist Herman Buhler in their group called Sojourn, She has performed with composer/electronic musician Guillermo Galindo for several years in Sarah Cahill's "Garden of Memory" at the Chapel of Chimes in Oakland. She has performed in several Planet Tree Festivals in London (Lawrence Ball). She makes regular appearances on radio and TV, and has worked in film, theater, dance, and multimedia productions.
Accompanying Sangita will be Paul Eastburn whose extraordinary and multi-facetted talents are expressed on bass, violin and mandolin in this concert. He is one of the most in-demand musicians in the Bay Area and has distinguished himself as an educator in a number of San Francisco music programs.
---
Scotland's premier traditional band

Saturday, October 17 - 8:00pm - $18 advance / $20 at door

An Especially Eloquent Mixture of the Old and the New



Video of The Tannahill Weavers - Gloomy Winter's Noo Awa'
Live video of The Tannahill Weavers
The Tannahill Weavers are one of Scotland's premier traditional bands. Since the band's formation, the Tannahills have won the Scotstar Award for Folk Record of the Year with their third album, The Tannahill Weavers. The band has played in front of thousands at the national festivals in Vancouver, Winnipeg and Toronto screaming an approval that echoed throughout the Canadian media. The Regina Leader-Post wrote, "The Tannahill Weavers personify Celtic music, and if you are given to superlatives, you have to call their talent 'awesome'." In 2011 the band was inducted into the Scottish Traditional Music Hall of Fame, and in 2014 they were joined by an innovative piper Lorne MacDougall. Lorne comes with a high pedigree, having arranged and performed pipes for the Disney Pixar movie "Brave", along with a long list of other accomplishments. With the release of the Tannahill's 17th recording, Live and In Session, on award-winning label Compass Records, they are firmly established as one of the best groups on the concert stage.
Their diverse repertoire spans the centuries with fire-driven instrumentals, topical songs, and original ballads and lullabies. Their music demonstrates to old and young alike the rich and varied musical heritage of the Celtic people. These versatile musicians have received worldwide accolades consistently over the years for their exuberant performances and outstanding recording efforts. The Tannahills have that unique combination of traditional melodies, driving rhythmic accompaniment, and rich vocals that make their performances unforgettable.
---
Coming Back to Our Venue

Friday, October 30 - 8 pm - $17 advance / $20 at door

Mikael Marin of V&AumlSEN, and Mia Marin



Live video of Marin/Marin
Marin/Marin is Swedish master fiddlers husband and wife duo Mikael Marin and Mia Marin. They play traditional Swedish music, as well as their own compositions. So far, they have released two albums: "Mot Hags&aumtra" and "Sm&aringfolket." They are famous in Sweden, and tour reguarly in in Sweden, Norway, Denmark, Scottland, Belgium, Estonia, Italy, France, Bulgaria, Australia, USA etc. This is a rare chance to see them in the Bay Area.
Marin/Marin have released the highly acclaimed CD Mot Hags&aumtra on the label Dimma Sweden. In june 2011, their second album Sm&aringfolket was released, and their third album is scheduled to be released any time now. They have also made a tune book with 22 of their own tunes with second voices and chords.
Mikael Marin is well known in this area for being a member of the trio V&aumlsen, who have developed a fanatic following the in the Bay Area. He plays five string viola and violino grande in this duo.
Mia Marin plays five string violin in this duo, and is well known as a lively and exuberant musician from V&aumlrmland in Sweden. She is an experienced composer, taking inspiration mainly from traditional music, but also from jazz and classical music. Her music is recorded on several albums over the years, Mia also teaches at some of the most prestigious music institutions in Sweden including the Royal College of Music in Stockholm, and at many different workshops around the world.
Moreover, Marin Marin has become an inspiration for many string enthusiasts with their Tunebook, a manuscript book with original tunes. It is full of wonderful compositions and clever harmonisations. A cross between classical music and folk music, their compositions strike a chord with younger audiences. The duo has become an example of best techniques and practices for many players.
---
CD Release Party

Friday, November 6 - 8 pm - $15 advance / $18 at door

Global, Local & Homemade Songs



Live video from the previous show at Studio 55 Marin
Whether it's a polyrhythmic groove on juju magic, a playful musing on the rhythm of the heartbeat, a march about the mating season of tarantulas, a swing on spring fever, or rockin' and rollin' with a ride on the happiness train, Terry, Becky & Elise cook from the minute they hit the stage. Bringing 3 uniquely different voices to the blend, their harmonies spread a web of joy and the delight of singing together.
ELISE WITT (from Atlanta, Georgia) . Elise's music is a gumbo that spans styles, genres, countries, and times. Her straightforward charm and pure, strong voice are truly fine music to the ears. She has 11 recordings on the EMWorld label. Her songs have been used in several documentary films, and include the anthem Open the Window. Elise has crisscrossed the United States performing her songs, including at Carnegie Hall and Lincoln Center.
BECKY REARDON (from Taos, New Mexico). Becky's silky jazz-infused sound coupled with a deep connection to nature and expert guitar work make her music a must. Her songs and rounds are sung in song circles and by university and community choirs all across the United States, Canada, and the British Isles. Becky was a featured performer at the international GALA Festival of Choirs in 2012, and her song Venus was performed during the NASA webcast of the Venus transit of the sun in June 2014.
TERRY GARTHWAITE (from Marin).With a voice both "sassy & touching", Terry has been creating infectious music since the '70s in the Joy of Cooking band. She is an internationally known singer, songwriter, composer, producer, and teacher. In addition to her several albums with various jazz and blues musicians, she has shared the stage with such artists as BB King, Janis Joplin, Bonnie Raitt, The Band, Allen Ginsberg, Santana, Rosalie Sorrels and writer Bobbie Hawkins at venues that include Carnegie Hall and the Hollywood Bowl.
---
Traditional Scottish Fiddling and Piping

Sunday, January 24 - 3pm - $15 advance / $18 at door

Cape Breton Music for Fiddle, Pipes, and Guitar.



Live video of Cape Breton Trio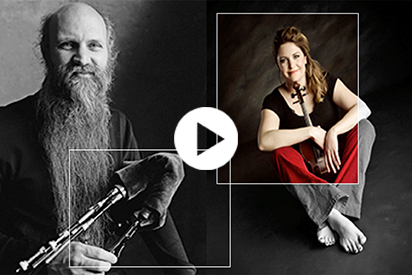 We welcome a Celtic instrumental trio with a very unique and captivating sound. This is a new collaboration that focuses on the musical and cultural interplay between a fiddle and pipes, two instruments that have had a long, close, and mutually influential relationship on Cape Breton Island.
Dick Hensold is the leading Northumbrian smallpiper in North America, and for the past 20 years has performed and taught in England, Scotland, Japan, Canada, and across the United States. Based in St Paul, MN, he is a full-time musician, passionately presenting the traditional music of Scotland, Cape Breton Island, and Northumberland, as well as Nordic folk music, early music, and traditional Cambodian music. He is also an active composer, studio musician and theater musician, and his solo Northumbrian smallpipes CD Big Music for Northumbrian Smallpipes was released in 2007.
Andrea Beaton comes from a long line of musicians, composers and dancers and is known for her powerful bow and driving style. She was nominated as Roots Traditional Solo Artist of the Year at the East Coast Music Awards and proceeded to win the Canadian East Coast Music Awards "Instrumental Recording of the Year!" with her 2010 CD, 'Branches.' She tours and teaches internationally and is in great demand as a teacher at music camps and fiddling/dancing workshops.
Composer, arranger, producer, guitarist Dean Magraw has fine-tuned his "Heavy Meadow" approach to music from years of performing and recording with some of the finest musicians in the United States, Europe, and Japan. His first recording, Broken Silence, came out in 1994 and won the NAIRD award for Best Acoustic Instrumental Album of the Year. Dean has since produced myriad passionate albums, including his latest release, Fire on the Nile (Red House Records), a duo collaboration with renowned percussionist, Eric Kamau Gravatt.
---