&nbsp &nbsp &nbsp &nbsp Studio 55 Marin
Premier Live Music Listening Room
1455 East Francisco Blvd., San Rafael, California
Drive To

For Live Music

Performance Hall
& Music School

Live shows presented by

a registered 501c3 non-profit

Traditional Music
Instruction
---
UPCOMING SHOWS
If you can't play the videos on this page, you probably just need to upgrade your web browser
---
Scotland's premier traditional band

Saturday, October 17 - 8:00pm - $18 advance / $20 at door

An Especially Eloquent Mixture of the Old and the New



Video of The Tannahill Weavers - Gloomy Winter's Noo Awa'
Live video of The Tannahill Weavers
The Tannahill Weavers are one of Scotland's premier traditional bands. Since the band's formation, the Tannahills have won the Scotstar Award for Folk Record of the Year with their third album, The Tannahill Weavers. The band has played in front of thousands at the national festivals in Vancouver, Winnipeg and Toronto screaming an approval that echoed throughout the Canadian media. The Regina Leader-Post wrote, "The Tannahill Weavers personify Celtic music, and if you are given to superlatives, you have to call their talent 'awesome'." In 2011 the band was inducted into the Scottish Traditional Music Hall of Fame, and in 2014 they were joined by an innovative piper Lorne MacDougall. Lorne comes with a high pedigree, having arranged and performed pipes for the Disney Pixar movie "Brave", along with a long list of other accomplishments. With the release of the Tannahill's 17th recording, Live and In Session, on award-winning label Compass Records, they are firmly established as one of the best groups on the concert stage.
Their diverse repertoire spans the centuries with fire-driven instrumentals, topical songs, and original ballads and lullabies. Their music demonstrates to old and young alike the rich and varied musical heritage of the Celtic people. These versatile musicians have received worldwide accolades consistently over the years for their exuberant performances and outstanding recording efforts. The Tannahills have that unique combination of traditional melodies, driving rhythmic accompaniment, and rich vocals that make their performances unforgettable.
---
Coming Back to Our Venue

Friday, October 23 - 8:00pm - $15 advance / $18 at door

Hot Bluegrass and Cool Originals



Live video of Kathy Kallick Band - Banjo Pickin' Girl
Live video of Kathy Kallick Band - Old Black Choo Choo
Time pays homage to the classics from our musical heroes and adds to the tradition with original material from Kallick, Bekeny, and Booth. This is a top-notch band led by a woman with the warmest, richest voice in our music today. - Katy Daley, WAMU's Bluegrass Country
Kathy Kallick has been leading bluegrass bands since co-founding the internationally-acclaimed band, Good Ol' Persons, in 1975. She continues to evolve as one of the music's extraordinary composers and vocalists, releasing 15 albums, which include over 100 of her original songs. Her latest CD, Between the Hollow and the High-Rise, and the song Where Is My Little Cabin Home, were fixtures on the national bluegrass charts for two years. The song had more chart time than any other 2010-11 release!
Along the way, Kathy has: *Won a Grammy and two IBMA Awards for her part on True Life Blues: The Songs Of Bill Monroe. *Had three title tracks and three albums (Call Me A Taxi, Walkin' In My Shoes, and Warmer Kind Of Blue) each spend a year in the upper echelon of the bluegrass charts. *Appeared on three high-profile Rounder collections of bluegrass songs by women, as well as many other noteworthy collections of songs. *Toured throughout North America, Europe, and Japan.
---
Coming Back to Our Venue

Friday, October 30 - 8 pm - $17 advance / $20 at door

Mikael Marin of V&AumlSEN, and Mia Marin



Live video of Marin/Marin
Marin/Marin is Swedish master fiddlers husband and wife duo Mikael Marin and Mia Marin. They play traditional Swedish music, as well as their own compositions. So far, they have released two albums: "Mot Hags&aumltra" and "Sm&aringfolket." They are famous in Sweden, and tour reguarly in Sweden, Norway, Denmark, Scottland, Belgium, Estonia, Italy, France, Bulgaria, Australia, USA etc. This is a rare chance to see them in the Bay Area.
Marin/Marin have released the highly acclaimed CD Mot Hags&aumltra on the label Dimma Sweden. In June 2011, their second album Sm&aringfolket was released, and their third album is scheduled to be released any time now.
Mikael Marin is well known in this area for being a member of the trio V&aumlsen, who have developed a fanatic following in the Bay Area. He plays five string viola and violino grande in this duo.
Mia Marin plays five string violin in this duo, and is well known as a lively and exuberant musician from V&aumlrmland in Sweden. She is an experienced composer, taking inspiration mainly from traditional music, but also from jazz and classical music. Her music is recorded on several albums over the years. Mia also teaches at some of the most prestigious music institutions in Sweden including the Royal College of Music in Stockholm, and at many different workshops around the world.
Moreover, Marin Marin has become an inspiration for many string enthusiasts with their Tunebook, a manuscript book with original tunes. It is full of wonderful compositions and clever harmonization. A cross between classical music and folk music, their compositions strike a chord with younger audiences. The duo has become an example of best techniques and practices for many players.
---
CD Release Party

Friday, November 6 - 8 pm - $15 advance / $18 at door

Global, Local & Homemade Songs



Live video from the previous show at Studio 55 Marin
Whether it's a polyrhythmic groove on juju magic, a playful musing on the rhythm of the heartbeat, a march about the mating season of tarantulas, a swing on spring fever, or rockin' and rollin' with a ride on the happiness train, Terry, Becky & Elise cook from the minute they hit the stage. Bringing 3 uniquely different voices to the blend, their harmonies spread a web of joy and the delight of singing together.
ELISE WITT (from Atlanta, Georgia) . Elise's music is a gumbo that spans styles, genres, countries, and times. Her straightforward charm and pure, strong voice are truly fine music to the ears. She has 11 recordings on the EMWorld label. Her songs have been used in several documentary films, and include the anthem Open the Window. Elise has crisscrossed the United States performing her songs, including at Carnegie Hall and Lincoln Center.
BECKY REARDON (from Taos, New Mexico). Becky's silky jazz-infused sound coupled with a deep connection to nature and expert guitar work make her music a must. Her songs and rounds are sung in song circles and by university and community choirs all across the United States, Canada, and the British Isles. Becky was a featured performer at the international GALA Festival of Choirs in 2012, and her song Venus was performed during the NASA webcast of the Venus transit of the sun in June 2014.
TERRY GARTHWAITE (from Marin).With a voice both "sassy & touching", Terry has been creating infectious music since the '70s in the Joy of Cooking band. She is an internationally known singer, songwriter, composer, producer, and teacher. In addition to her several albums with various jazz and blues musicians, she has shared the stage with such artists as BB King, Janis Joplin, Bonnie Raitt, The Band, Allen Ginsberg, Santana, Rosalie Sorrels and writer Bobbie Hawkins at venues that include Carnegie Hall and the Hollywood Bowl.
---
Darol Anger returns to the Valley of His People

Sunday, November 8 - 3:00pm - $17 advance / $20 at door

Featuring Emy Phelps and Tristan Clarridge and surprise guests



Live video of Darol Anger & The Furies - Evening Prayer Blues
Live video of Darol Anger & The Furies - The Dog Waltz
Internationally renowned fiddle player Darol Anger will return to play an intimate concert in an area which has deep emotional significance for him: San Rafael. Anger was raised in Marin County and attended San Rafael High School (also home to many other talented musicians including film composer Mark Isham). Some of his most important formative musical experiences happened right in this neighborhood, at the historic Pepperland Theatre: his first Grateful Dead experience which also featured Janis Joplin, and a double-bill of the Youngbloods and an explosive band called SeaTrain, with a young Peter Rowan and fiddler Richard Greene, who sparked Darol's fiddling career.
Now a professor at Boston's Berklee College Of Music, Anger was a resident of the San Francisco Bay Area for 30 years and was a founding member of the David Grisman Quintet with Tony Rice, and released many recordings on the Windham Hill label with Barbabra Higbie, Mike Marshall, and his Turtle Island String Quartet.
Darol has spent his career enlightening and inspiring his fellow musicians, and vice-versa. That's where the Furies come in, a handpicked collection of multi-generations virtuoso singers and musicians drawn from Darol's vast network of talent. Sharon Gilchrist is a mandolin marvel who has played with Uncle Earl, the Peter Rowan/Tony Rice quartet, and Laurie Lewis and the Right Hands. Emy Phelps is a remarkable vocalist and a star in the Pacific Northwest who put her career on hold to raise four kids and is now back in the game. Tristan Clarridge is a five-time Grand National Fiddle Champion and a pioneering cellist who has toured with Crooked Still. When these four powerful forces get together with Darol, the result is mythical, magical, and musical mayhem.
---
Coming Back to Our Venue

Saturday, November 14 - 8:00pm - $18 advance / $22 at door

World's First Celtic All-Star Grateful Dead Jam Band



Live video of Wake the Dead - Dear Prudence
Live video of Wake the Dead - A Medley
After 11 years of solid success blending Celtic traditional music and the songs of the Grateful Dead, this hot Northern California septet now embraces the entire Summer of Love, delighting Deadheads, folkies, rockers, and adventurous music lovers alike around the world.
As an expression of cultural joy, you can't top an Irish wake. And what is a wake but a celebration - a toast of appreciation - an expression of love - and a damn good party. So when eight top Bay Area musicians realized they shared as deep a love for the songs of the Grateful Dead as they did for traditional Celtic tunes, some brand-new music sprang up and started the partying.
Wake the Dead is a romp that flows seamlessly from rock grooves to hot Irish reels, and from haunting airs to achingly beautiful melodies familiar to Deadheads everywhere. Sugaree in waltz time, bracketed by an ancient harp tune and infused with a poignant Celtic longing. Bertha thundering out of China Cat on a mandolin tidal wave. The eerie lilt of the uilleann pipes, giving a glow to Bird Song as if it was always meant to be there. Groove jams to keep the tie-dye swirling. Vocal harmonies that float like clouds.
The music takes off, and the band follows, grinning all the way. These aren't worlds colliding - they're worlds meshing, coalescing - creating a whole new world of possibility, and true to the spirits of the Grateful Dead and the eternally hopeful Celts.
---
Traditional Scottish Fiddling and Piping

Sunday, January 24, 2016 - 3pm - $15 advance / $18 at door

Cape Breton Music for Fiddle, Pipes, and Guitar.



Live video of Cape Breton Trio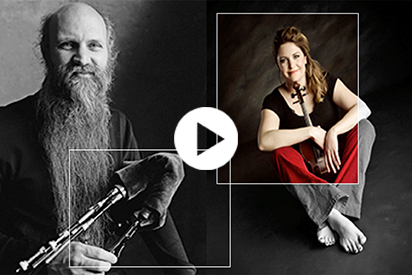 We welcome a Celtic instrumental trio with a very unique and captivating sound. This is a new collaboration that focuses on the musical and cultural interplay between a fiddle and pipes, two instruments that have had a long, close, and mutually influential relationship on Cape Breton Island.
Dick Hensold is the leading Northumbrian smallpiper in North America, and for the past 20 years has performed and taught in England, Scotland, Japan, Canada, and across the United States. Based in St Paul, MN, he is a full-time musician, passionately presenting the traditional music of Scotland, Cape Breton Island, and Northumberland, as well as Nordic folk music, early music, and traditional Cambodian music. He is also an active composer, studio musician and theater musician, and his solo Northumbrian smallpipes CD Big Music for Northumbrian Smallpipes was released in 2007.
Andrea Beaton comes from a long line of musicians, composers and dancers and is known for her powerful bow and driving style. She was nominated as Roots Traditional Solo Artist of the Year at the East Coast Music Awards and proceeded to win the Canadian East Coast Music Awards "Instrumental Recording of the Year!" with her 2010 CD, 'Branches.' She tours and teaches internationally and is in great demand as a teacher at music camps and fiddling/dancing workshops.
Composer, arranger, producer, guitarist Dean Magraw has fine-tuned his "Heavy Meadow" approach to music from years of performing and recording with some of the finest musicians in the United States, Europe, and Japan. His first recording, Broken Silence, came out in 1994 and won the NAIRD award for Best Acoustic Instrumental Album of the Year. Dean has since produced myriad passionate albums, including his latest release, Fire on the Nile (Red House Records), a duo collaboration with renowned percussionist, Eric Kamau Gravatt.
---
Only Bay Area Stop On A World Tour

Saturday, January 30, 2016 - 8:00pm - $15 advance / $18 at door

The Future of Folk



Live video of Daniel Champagne - The Nightingale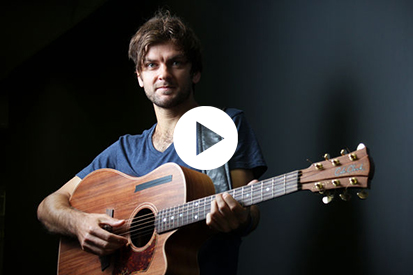 Live video of Daniel Champagne - Spoonful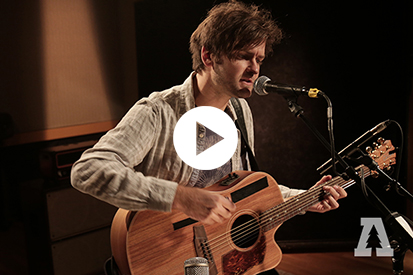 One reviewer recently wrote - "Daniel Champagne exudes a natural ease on stage, as he sings poignant lyrics and beautifully crafted melodies that invariably whisk the heart up with grand romanticism. Coupled with an exhilarating guitar talent that transcends mere acoustic playing to replicate a whole band, Champagne is just magical" (themusic.com.au)
The young Australian singer, songwriter and one-of-a-kind guitar virtuoso first picked up his instrument of choice as a five-year-old following in the footsteps of a musical father. At 18 he left school, turned professional and hit the road. The next five years saw him traversing North America, the United Kingdom, Europe, New Zealand and of course, his homeland Australia playing such festivals as Vancouver and Mariposa Folk (Canada), Belgium's Labadoux Festival and Australia's Woodford, Falls Festival, Port Fairy Folk Festival and the legendary Byron Bay Bluesfest. He has toured and shared stages with the likes of Lucinda Williams, Judy Collins, INXS, John Butler, KT Tunstall and Ani DiFranco - all of this while writing, producing and independently releasing new music.
As one reviewer recently wrote, "still in his early twenties, the distances he has been would be more frequently associated with veterans of the Folk scene" (The Dwarf). In 2013, he undertook the ambitious task of delivering two stand-alone albums within the space of twelve months. The Gypsy Moon - Volumes I and II marked a great leap forward for him both as a songwriter and a recording artist, with Australia's roots music bible Rhythms Magazine saying that "Champagne has gone a step further this time, it's like he's realized his own potential, his confidence is sky-high and he's truly ready to explore."
Now regarded as a leading light in acoustic music, with a firm reputation for making festivals buzz, holding crowds in his palm, dropping jaws and breaking guitars wherever he goes.
---