&nbsp &nbsp &nbsp &nbsp Studio 55 Marin
Premier Live Music Listening Room
1455 East Francisco Blvd., San Rafael, California
Drive To

For Live Music

Performance Hall
& Music School

Live shows presented by

a registered 501c3 non-profit

Traditional Music
Instruction
---
UPCOMING SHOWS
If you can't play the videos on this page, you probably just need to upgrade your web browser
---
Great Old Songs on a Saturday Night

Saturday, December 12 - 8pm - $17 advance / $20 at door

Celebrating The Great American Songbook



Live video of Mike Greensill and Wesla Whitfield
Wesla, with her husband/pianist/arranger, Mike Greensill performs annually throughout the country in concert halls and fine show rooms. Together Mike and Wesla have opened at Michigan's Meadowbrook, New Jersey's Garden State Art Center and Flint Center in Cupertino for such notables as George Burns, Michael Feinstein and Frankie Laine.
Mike Greensill is a resident piano player on Sedge Thomson's weekly Public Radio show to the world, "West Coast Live." As an arranger Mike, in addition to his work with Wesla, has had the opportunity to write for big bands and symphony orchestras including the Boston Pops and the San Francisco Symphony. Mike has also had the pleasure of accompanying such diverse talents as Rita Moreno,Margaret Whiting, Broadway stars Lillias White and Franc D'Ambrosio and jazz singers Madeline Eastman, Ann Hampton Callaway and Opie Bellas.
Wesla Whitfield is a remarkable singer whose recording received rave reviews from Jazz Times and many other national publications. Her solo symphonic appearances include two concerts with the San Francisco Symphony as well as San Jose, Sacramento, Omaha, Stockton, Napa, Auburn, Concord Pavilion, Santa Rosa, Peninsula and California Symphonies. She appeared on many national shows, including Garrison Keillor's "Prairie Home Companion" and the highly revered Marian McPartland PBS 'Piano Jazz' series. The October 2005 issue of Oprah Magazine hailed Wesla as "a phenomenal woman" in a detailed three page article.
Together Whitfield and Greensill conduct scheduled Master Classes at Notre Dame De Namur in Belmont and Napa Colleges in Napa Valley and throughout the country.
---
Afternoon Audio-Visual Show

Sunday, January 10 - 3:00pm - $16 advance / $20 at door

World-Famous Fingerstyle Guitarist and Harp-Guitarist



Live video of Muriel playing harp guitar
Live video of Muriel playing Superstition
"Now living in Nashville, where there's no shortage of world-class musicians, Anderson is so masterful that she could probably tell a guitar to sweep the floor and take out the trash and it would do it." - Marin IJ
One of the world's foremost fingerstyle guitarists and harp-guitarists, Muriel Anderson is the first woman to have won the National Fingerstyle Guitar Championship. An engaging performer, her obvious joy of music, humor, and facility across musical genres is revered by guitarists and audiences worldwide. She has recorded with country legend Chet Atkins, performed in New York with Les Paul, across the globe solo, in ensemble and with orchestras. She is host and founder of Muriel Anderson's All Star Guitar Night, the premiere live music event for over 20 years at the semi-annual NAMM music trade shows, and also the founder of the Music for Life Alliance charity. She is a prolific composer of music on guitar and harp guitar.
Her unique approach to the instrument virtually transforms the guitar into a lyrical choir, then a marching band, then a Japanese koto, then a Bluegrass band, one minute launching into a Beatles tune and the next, Rodrigo's Concerto de Aranjuez.
Her Heartstrings cassette traveled into space, accompanying astronaut Susan Helms for 2.3 million miles on the space shuttle Discovery. Muriel's music can also be heard in Woody Allen's film Vicky Cristina Barcelona. She enjoys touring as is evidenced by her "photos from the road" and "recipes from the road" on her website. Her new double CD Nightlight Daylight is a culmination of her creative spirit, and is also the first CD to incorporate fiber optics in the packaging.
---
Traditional Scottish Fiddling and Piping

Sunday, January 24, 2016 - 3pm - $15 advance / $18 at door

Cape Breton Music for Fiddle, Pipes, and Guitar.



Live video of Cape Breton Trio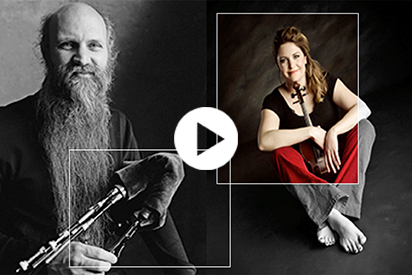 We welcome a Celtic instrumental trio with a very unique and captivating sound. This is a new collaboration that focuses on the musical and cultural interplay between a fiddle and pipes, two instruments that have had a long, close, and mutually influential relationship on Cape Breton Island.
Dick Hensold is the leading Northumbrian smallpiper in North America, and for the past 20 years has performed and taught in England, Scotland, Japan, Canada, and across the United States. Based in St Paul, MN, he is a full-time musician, passionately presenting the traditional music of Scotland, Cape Breton Island, and Northumberland, as well as Nordic folk music, early music, and traditional Cambodian music. He is also an active composer, studio musician and theater musician, and his solo Northumbrian smallpipes CD Big Music for Northumbrian Smallpipes was released in 2007.
Andrea Beaton comes from a long line of musicians, composers and dancers and is known for her powerful bow and driving style. She was nominated as Roots Traditional Solo Artist of the Year at the East Coast Music Awards and proceeded to win the Canadian East Coast Music Awards "Instrumental Recording of the Year!" with her 2010 CD, 'Branches.' She tours and teaches internationally and is in great demand as a teacher at music camps and fiddling/dancing workshops.
Composer, arranger, producer, guitarist Dean Magraw has fine-tuned his "Heavy Meadow" approach to music from years of performing and recording with some of the finest musicians in the United States, Europe, and Japan. His first recording, Broken Silence, came out in 1994 and won the NAIRD award for Best Acoustic Instrumental Album of the Year. Dean has since produced myriad passionate albums, including his latest release, Fire on the Nile (Red House Records), a duo collaboration with renowned percussionist, Eric Kamau Gravatt.
---
Only Bay Area Stop On A World Tour

Saturday, January 30, 2016 - 8:00pm - $15 advance / $18 at door

The Future of Folk



Live video of Daniel Champagne - The Nightingale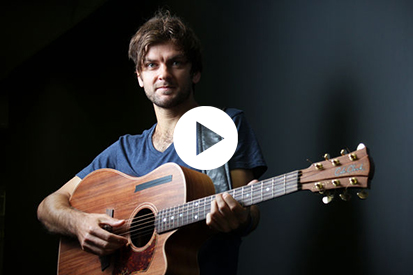 Live video of Daniel Champagne - Spoonful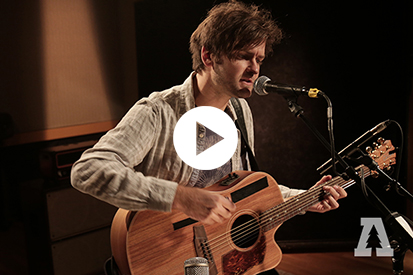 One reviewer recently wrote - "Daniel Champagne exudes a natural ease on stage, as he sings poignant lyrics and beautifully crafted melodies that invariably whisk the heart up with grand romanticism. Coupled with an exhilarating guitar talent that transcends mere acoustic playing to replicate a whole band, Champagne is just magical" (themusic.com.au)
The young Australian singer, songwriter and one-of-a-kind guitar virtuoso first picked up his instrument of choice as a five-year-old following in the footsteps of a musical father. At 18 he left school, turned professional and hit the road. The next five years saw him traversing North America, the United Kingdom, Europe, New Zealand and of course, his homeland Australia playing such festivals as Vancouver and Mariposa Folk (Canada), Belgium's Labadoux Festival and Australia's Woodford, Falls Festival, Port Fairy Folk Festival and the legendary Byron Bay Bluesfest. He has toured and shared stages with the likes of Lucinda Williams, Judy Collins, INXS, John Butler, KT Tunstall and Ani DiFranco - all of this while writing, producing and independently releasing new music.
As one reviewer recently wrote, "still in his early twenties, the distances he has been would be more frequently associated with veterans of the Folk scene" (The Dwarf). In 2013, he undertook the ambitious task of delivering two stand-alone albums within the space of twelve months. The Gypsy Moon - Volumes I and II marked a great leap forward for him both as a songwriter and a recording artist, with Australia's roots music bible Rhythms Magazine saying that "Champagne has gone a step further this time, it's like he's realized his own potential, his confidence is sky-high and he's truly ready to explore."
Now regarded as a leading light in acoustic music, with a firm reputation for making festivals buzz, holding crowds in his palm, dropping jaws and breaking guitars wherever he goes.
---
Special Sunday Evening Show

Sunday, March 13, 2015 - 7pm - $18 advance / $20 at door

Traditional Scottish Folk Music



Live video of Old Blind Dogs
"Old Blind Dogs bring freshness and colour to acoustic music steeped in centuries of Scottish folklore and history." - (The Los Angeles Times)
Since forming in the early 1990's, Old Blind Dogs have stood on the cutting edge of Scotland's roots revival. The band has developed its own trademark style with an energetic mix of songs and tunes. Dynamic percussion, polished vocals, soaring fiddle and stirring pipes fuel the delicately-phrased melodies and traditional songs.
"The Old Blind Dogs play with a compelling energy and intoxicating rhythm," says The Scotsman, "as players and audience seem to share a wild ecstasy of emotion." Sixteen years is a long time in the life of any band and most who reach that milestone are content to rest on the tried and true formulas that have worked in the past. Not so for Scotland's Old Blind Dogs whose newly released Four on the Floor takes them bravely in many new directions.
"Together, in varying line-ups along with past members Buzzby McMillan (bass, bouzouki, vocals), Davy Cattanach (percussion, vocals), Fraser Fifield (saxophone, small pipes), Paul Jennings (percussion), Rory Campbell (Border pipes, whistles, vocals) and singer/guitarists Ian Benzie and Jim Malcolm, the Dogs have released ten albums and have won numerous awards. The Old Blind Dogs were named "Folk Band of the Year" at the Scots Trad Music Awards in 2004 and 2007. Also in 2004, Jim Malcolm was named Songwriter of the Year. In 2001, the UK's Association of Independent Music selected their album Fit? as a finalist for the Celtic Album of the Year award. Their latest album 'Four On The Floor' also picked up the IAP 'Best Celtic CD' Award.
---
Special Sunday Matinee

Sunday, May 22, 2016 - 3:00pm - $17 advance / $20 at door

Virtuoso Guitar Music with an Eastern European Twist



Live video of Trio Balkan Strings - Stampedo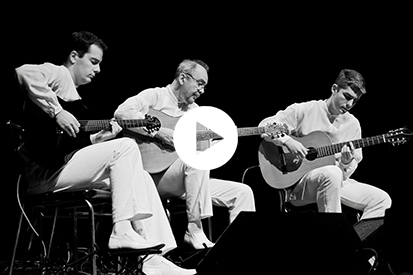 Live video of Trio Balkan Strings - Svilen Konac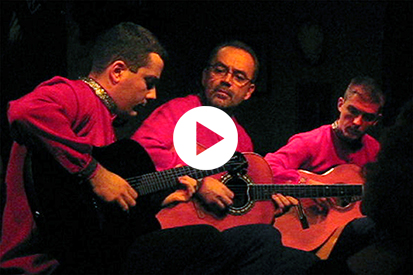 Trio Balkan Strings is a family band of three virtuoso guitarists from Serbia. They have filled up philharmonic concert halls all over Eastern Europe and performed at a variety of festivals around the world. Their original music is a fusion of Balkan influences, such as Serbian, Gypsy, Macedonian, or Romanian. This colorful musical mix is further embellished by asymmetrical rhythms and original guitar interpretation.
Trio Balkan Strings is no ordinary group of musicians. They won first prize and the Dolphin statue for being the best instrumental ensemble on the Music World 2004 Italy Festival Internacionale Fivizzano. It also became a First Prize Winner in the World category of the 2005 USA Songwriting Competition with composition Water-mill written by the band member Nikola Starcevic. In addition to these accomplishments, Nikola is a First Prize Winner of the JoAnn Falletta International Composition Competition for Guitar 2007 Buffalo, New York (with Asiana IV).
Their instrumental performance is airtight, and the music inspires listeners through the richness of its cultural palette.
---
Coming to the Bay Area from Glasgow, Scotland

Friday, July 15, 2016 - 8pm - $17 advance / $20 at door

Scottish/Irish Traditional Music



Live video of Paul McKenna Band
"The best folk band to have come out of Scotland in the last twenty years." - New York Times
Combining their love for traditional and folk music as well as original songs and tunes, the Paul MacKenna Band have been playing to audiences throughout the UK since 2006. With a contemporary approach to songs, although not straying too far from their roots, their arrangements are both fresh and innovative. Their exciting sound is created through outstanding vocals, driving guitar and bouzouki, intense fiddle playing a warm pairing of flute and whistles and dynamic bodhran and percussion. Since being awarded the title of Best Up and Coming Artist of 2009 at the MG Alba Scots Trad Music Awards, The Paul McKenna Band have gone from strength to strength touring extensively throughout USA, Canada and Europe.
Concert highlights over the last few years include performances at Celtic Connections Glasgow, The Cambridge Folk Festival England, Tonder Festival Denmark, Milwaukee Irish Festival USA and Edmonton Folk Festival Canada. In 2015 the band will play at Walt Disney World in Orlando, Florida representing Scotland at Epcot Centre.
---